Soraya Somarathne's subterranean residence, designed for the grounds of Lambeth Palace, incorporates building techniques found in the Indian villages of Rohtak
A generous central circular skylight provides most of the natural daylight in the atrium. Around it, light tubes set into brickwork add further diffuse light.
Influenced by its location in the grounds of Lambeth Palace, Soraya Somarathne's top-lit Cloister offers a meditative and contemplative space for its occupants. The secluded, subterranean residence was admired by the judges for its 'different sensibility' and 'celestial atmosphere'.
Brick is the primary material, tying in with the historic surrounding architecture. Somarathne also incorporates building techniques derived from the 'Rohtak dome', a self-supporting shallow brick dome found in the Indian villages of Rohtak, topped by a central skylight. 'The mounded roof gives the design a certain presence,' said Foges. 'In some ways it recalls the Pantheon with its central oculus – there is no outlook but it does not feel claustrophobic'.
The Cloister's domed ceiling and curved internal walls disperse light throughout the space. Light-tubes within the perforated brickwork around the skylight supplement natural daylighting, taking advantage of the position of the sun throughout the day; the master bedroom enjoys morning sunlight, the kitchen receives midday sun, and the children's bedroom is warmed by evening light. During the summer, light is centralised within the house, allowing more of the interior to benefit from cooling shade. Oblique winter sunlight has the opposite effect. 'Unlike some entries, this one carefully considers the movement of the sun, the seasons, and the changing elements of light,' said Botsford. 'These considerations are fundamental, and create different opportunities'.
Sustainability considerations include the use of flexible, cost-effective and eco-friendly clay brick, capable of being recycled at the end of its life. The holes within the structural bricks have been adapted to function as planters, the soil and grass providing additional insulation.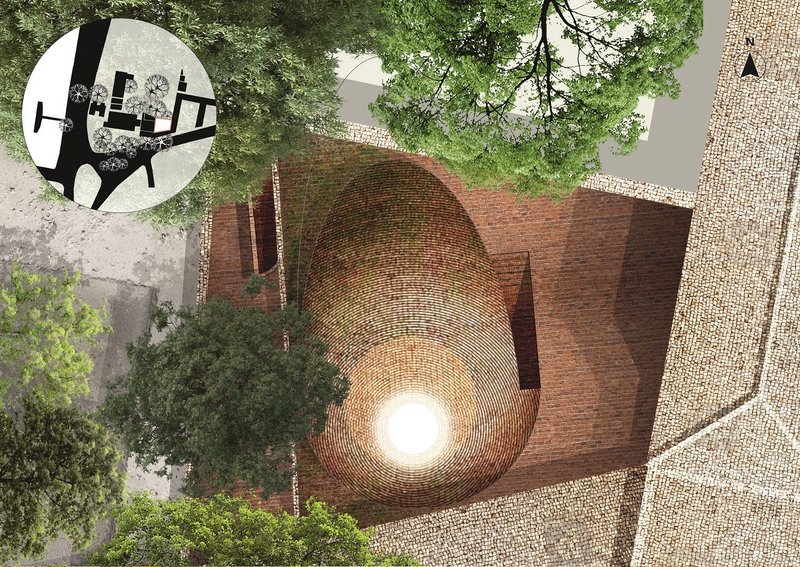 As the sun moves across the site from east to west, the distribution of daylight within the top-lit space emphasises different activities: morning light reaches the master bedroom first while midday sunlight illuminates the kitchen and dining area. Light from the glazed oculus moves around the open living area over the course of the day, creating an impression of dynamism and variety.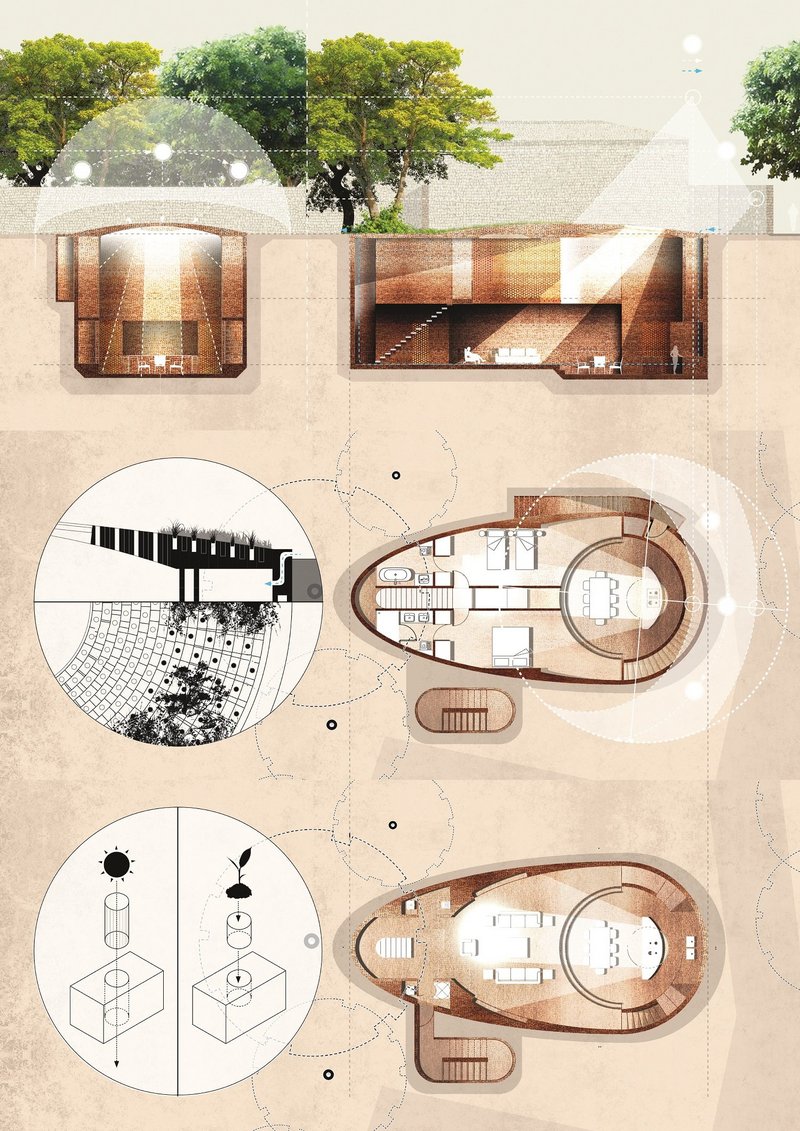 Light Roof was produced in association with