As holiday-makers fall back in love with the British seaside and people relocate, architects are finding new waves of work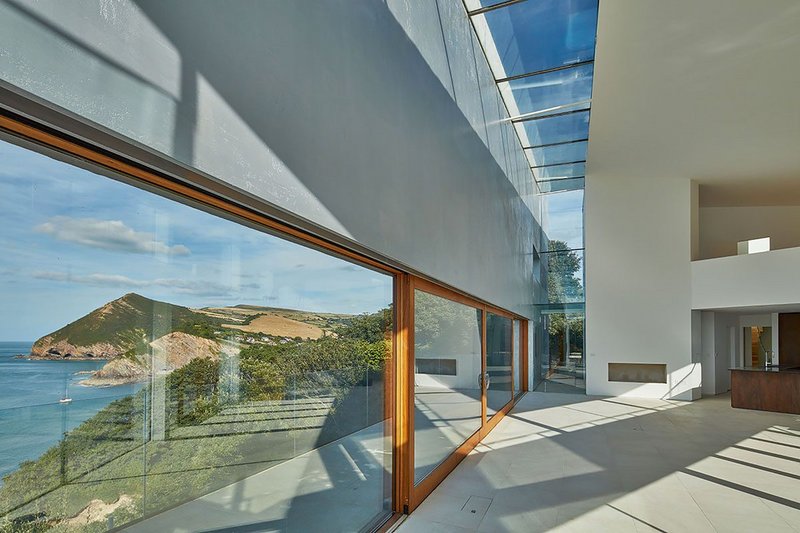 Stealth House by Guy Greenfield Architects is perched on the top of an exposed cliff in north Devon.

Credit: Paul Tyagi
If you're planning a beach holiday in the UK this summer, don't forget to pack your work laptop and contacts list in with your bucket and spade, because there's a resurgence in coastal building development, and opportunities for architects in the know.
Evidence suggests the UK holiday is no passing fad. The UK Travel Intelligence Report, published in January, found that 24% of people were planning more staycations than they did pre-pandemic, to take advantage of the British countryside and coast, compared to the 13% hoping to visit Europe more.
Self-catering holidays that provide space and privacy – must-haves given the changing Covid-19 restrictions and guidelines – make investment in coastal property an attractive opportunity, bolstered by the Brexit effect.
'We're experiencing a coastal boom, there's no question about that,' says Guy Greenfield, an architect and developer active on the coast of north Devon, whose cliff-top project Stealth House in Combe Martin was a finalist in the RIBA South West Awards in 2019. 'Property on the north coast is selling for fantastic sums of money. We own a house in Croyde that was on the market for about five years, and in the last six months we've been inundated with enquiries.'
He says the pandemic has encouraged wealthier individuals to reconsider their lifestyles and where they put their capital: 'A lot of people are transferring wealth to the countryside – in particular the coast.'
It remains to be seen whether a resurgence can reverse the gradual decline experienced by many seaside towns as a result of proliferating low-cost foreign package holidays (and compounded by social and economic factors) but other positive factors are at play.
The new world of online meetings and home working has opened people up to the idea that work can occur almost anywhere – and what better location for an office (either as a permanent base or a weekday working retreat) than facing a beach with sea views?
The attraction of a tether-free lifestyle is driving interest in hotel developments and refurbishments, as developers look past the current pandemic-induced impacts on hospitality toward future opportunities.
Hollaway Studio currently has two hotel projects underway in Margate: a "staycation hotel" and a destination spa hotel based around a membership culture. The latter will see members who live locally take advantage of the hotel's lounges, Wi-Fi and other facilities as an alternative place to work. When they need to travel to London to work or have meetings, a sister hotel in the Capital serves as a second base. Members located in London get to exploit the same model in reverse.
According to principal partner Guy Holloway, professionals are becoming mobile wealth generators, able to book a family staycation and simultaneously work from a laptop to keep the cash to fund it flowing.
'Technology is freeing people from being slaves to a system, we can all start to control our lives much more,' he explains. 'In an online culture of work, as long as you're delivering who cares where you are? Employers have a greater degree of trust that the workforce can deliver remotely.'
The architect recently collaborated on the refurbishment of Dreamland amusement park in Margate and is completing Folkestone's F51, the world's first multi-storey skatepark which the Times named as one of the 10 coolest buildings to be completed in 2021. A new public lido for Folkestone is also in the works.
According to Hollaway, conversations about coastal regeneration now focus on ­rediscovering the health benefits of the seaside, as the Victorians did so successfully. Destinations and activities need to be geared towards the new legion of remote workers, he says: 'We need to create a quality of architecture and content that you might expect in London or New York so people want to spend money where they are making it and reinvest in their communities.'
Economic stagnation, physical disinvestment and social challenges have blighted many coastal locations, but significant new public funding, aligned with the levelling up agenda, has the potential to catalyse change.
The government's new Towns Fund, announced in 2019, will distribute £3.6 billion across 100 areas, many of them coastal resorts, for capital building work and other improvements. The 45 with confirmed funding and outline strategies in place include Grimsby, Lowestoft, Mablethorpe, Scarborough, Skegness, Southport and Whitby, each of which received between £20 and £37million.
Tourism projects aren't always the main target for investment. The two key beneficiaries of Great Yarmouth's £20.1m of funding will be an operations and maintenance base for the offshore energy and renewables sector and a business incubator site on South Denes Peninsula, close to outer harbour. David Glason, director of planning and growth at Great Yarmouth Borough Council, explains: 'There is quite a bit of investment in key strategic locations and through the Towns Fund we're trying to attract more investment to progress them even further. Yarmouth is on the periphery of England, but close to offshore activity in the southern North Sea, which makes us a very attractive proposition.'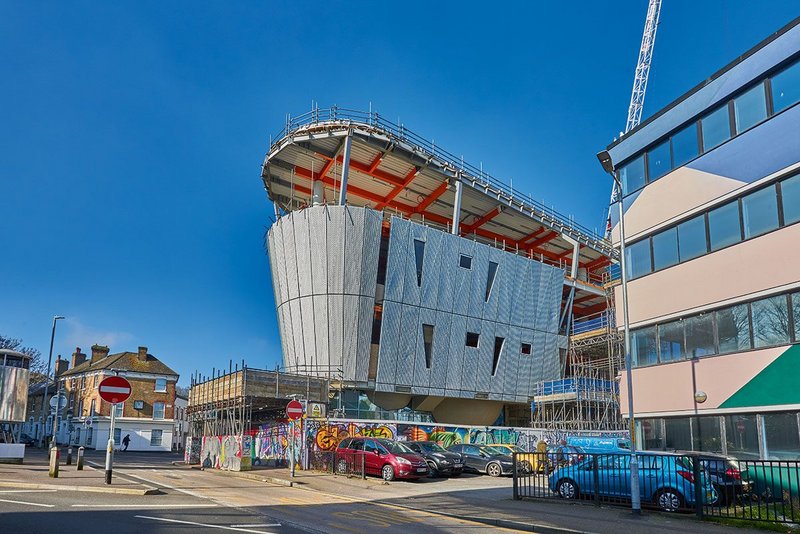 Guy Hollaway Architects' F51 in Folkestone is the world's first multi-storey skate park, which also contains a boulder room and climbing wall, a boxing gym, café and changing rooms. It is due to complete later this year.

Credit: Guy Hollaway Architects
Other development activity in the town centre is being supported by a further £13 million from the government's Future High Street fund. A £3.5m wood and steel covered market, designed by
Chaplin Farrant
, is under way, and outline consent for an 89-dwelling residential project, in an area known as The Conge, was awarded in December.
Over in Bournemouth, the background hum of construction activity will soon accompany the familiar sounds of crashing waves and seagulls as the local council makes good on its £21.7m pot of New Towns funding.
Outline proposals focus on regeneration in the suburb of Boscombe, once a popular resort with a pretty Victorian frontage, that has suffered a serious decline since the 90s when problems with drugs and crime took hold. It could see the development of 560 homes, a village hall, new medical centre, 6,700m2 of retail and leisure space and 4,800m2 of commercial and community/health space.
'Reconnecting the seafront with the town is a really critical part of what we hope to achieve,' says Chris Shephard, director of development at Bournemouth, Christchurch and Poole Council. 'It will give people a reason to come to the town as well as the seafront, rather than one or the other as it is today. The investment should stimulate positive change to bring the town back to former glories.'
New Towns Fund projects are among 'at least 10 big priority projects on the council books', including redevelopment of the Holes Bay power station site, one of the largest brownfield sites in the South West, to create hundreds of homes.
'There are definitely opportunities for architects,' says Shephard. 'More people are relocating here, particularly from London and the home counties, to enjoy the lifestyle. EasyJet has announced new routes here to and from Edinburgh and Belfast, which should attract more visitors, footfall and spend.'
In a new world of viral variants and restricted foreign travel, perhaps the idea of catching a short flight to sunny Bournemouth, rather than Brazil or Barcelona, won't seem such a bad option after all, ­especially if a Mr Whippy is involved.