This year's Stephen Lawrence Prize, Neave Brown Award for Housing and Client of the Year all go to projects in the east London borough, where clients and councils have prioritised transformation, regeneration and good community architecture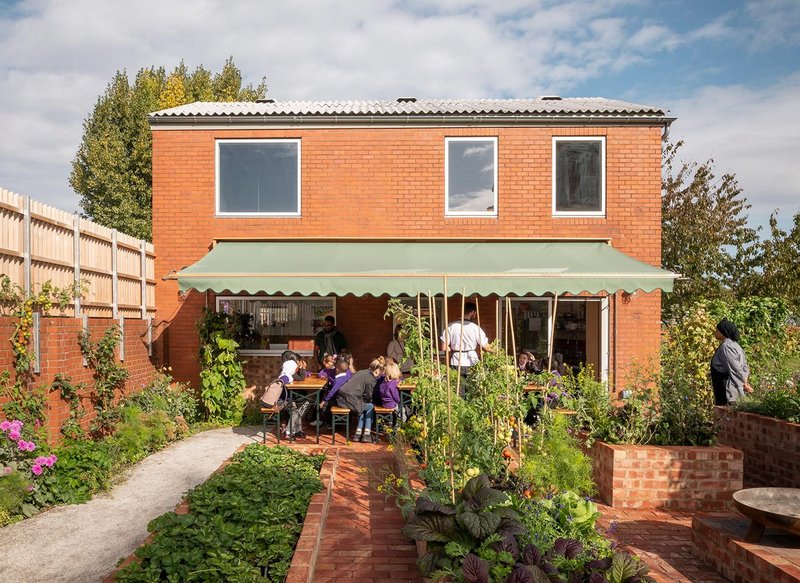 Hackney School of Food, designed by Surman Weston, wins Stephen Lawrence Prize 2022.

Credit: Jim Stephenson
You can read about the Stirling Prize winner here.
Stephen Lawrence Prize 2022 winner: Hackney School of Food, Surman Weston
The Stephen Lawrence Prize is allocated to projects with construction budgets of less than £1 million in memory of the teenager murdered in a racially motivated attack in Eltham, south-east London, in 1993. Hackney School of Food, a joint venture between LEAP Federation and Chefs in Schools, and which also won RIBAJ's MacEwen Award in 2021, is a 59m2 retrofit within the playground of a primary school designed as part of a nationwide initiative to get young people interested in, growing, cooking and eating healthy food. It also serves as an important community hub. The project removed the internal floor of the school's former caretaker's lodge to create a spacious professional kitchen and transformed its outdoor space into a large vegetable garden with greenhouse. The scheme aimed to 'achieve maximum impact for the minimum budget' by using robust materials and simple details. Height-adjustable units make the space suitable for both children and adults. The street scene is set with murals by Jean Jullien.
This year's prize was selected from a shortlist of seven by judges Doreen Lawrence, Matthew Goldschmied, managing trustee of the Marco Goldschmied Foundation, which established the Stephen Lawrence Prize in 1998, Mike Tonkin, Tonkin Liu Architects, winner of the 2021 Stephen Lawrence Prize, and Adefunmilayo Adebiyi, visiting juror on behalf of the Stephen Lawrence Day Foundation. Unusually, the shortlist included two projects designed by Surman Weston including the winner and Surbiton Springs, a house for a private client in south-west London. Three other houses made it onto the shortlist - The Parchment Works, Northamptonshire, by Will Gamble Architects, Ravine House, Derbyshire, by Chiles Evans + Care Architects and Leyton House, London, by McMahon Architecture – as well as a Footbridge in Leeds designed by Gagarin Studio with DP Squared and Peveril Gardens and Studios for Southwark council by Sanchez Benton Architects with Gabriel Kuri and Nigel Dunnett.
Matthew Goldschmied commented: 'The success of the Hackney School of Food is not limited to this one site. The architect and client have developed an inspirational blueprint to teach others how to regenerate and enliven their own communities in a similar way. This bold and inventive investment exemplifies the power of architecture to transform not only the building it touches, but the community it serves.'
Neave Brown Award for Housing 2022 winner: Hackney New Primary School and 333 Kingsland Road, Henley Halebrown
The Neave Brown Award recognises affordable UK housing schemes and the 2022 winner continues the theme of education. The Hackney New Primary School and 333 Kingsland Road scheme is a £26 million ten-storey 8500m2 building comprising a school enabled by a new housing block on a tight urban site with some retail units. Externally the building is characterised by its sculptural pink brutish appearance, with the school forming the ground and first floors topped by apartments with deep loggias above. Internally, the school centres around an open-air courtyard playground, which allowed architect Henley Halebrown to maximise functional spaces and eliminate internal corridors.
The winning project was selected from a three-strong shortlist by Kaye Stout, partner at Pollard Thomas Edwards, Yemi Aladerun, architect and senior development manager at Meridian Water, Enfield Council, and professor David Porter, the Neave Brown family representative.
The other shortlisted housing schemes were Kiln Place, Gospel Oak, London, a council-owned infill project designed by Peter Barber Architects, and Lovedon Fields, Hampshire, by John Pardy Architects for HAB. On the other hand, for RIBA Client of the Year, the school was up against the London Borough of Sutton and well-established architectural clients British Land and the University of Oxford.
Jury chair Kaye Stout said: 'Here, Henley Halebrown delivers high-quality affordable housing that stimulates and delights residents, visitors and passers-by. The robust design is thoughtfully detailed throughout. Not only does it provide social value to this inner-city neighbourhood, it responds to a complex brief with architectural ambition and sets an extremely high standard for urban design. When Neave Brown accepted the RIBA Gold Medal he said "we weren't so much doing housing as making part of the city" and this project does just that.'
RIBA Client of the Year winner 2022: Hackney New Primary School and 333 Kingsland Road, Henley Halebrown
The RIBA Client of the Year prize rewards exemplar clients who champion and commission outstanding architecture and, in the case of winner Henley Halebrown's Hackney New Primary School and 333 Kingsland Road scheme, recognises the crucial role of Thornsett Group and The Benyon Estate in achieving such an outstanding housing and education project. This hybrid scheme combines a community-led school with 68 apartments on a compact urban site. The deliberately dense housing - which includes 68 rented homes, 50 per cent of which are offered below market rates - frees up the maximum footprint for the school, while also providing a substantial baffle from noise and emissions from the neighbouring busy road. The building touches the pavement in a well mannered way, with a welcoming colonnade giving space back to the public realm and a sense of place to the ground level shop unit fronts.
From a diverse set of shortlists, it is surprising that all three schemes have been selected from the same London borough. Yet they are part of east London's continuing story of transformation and regeneration over the past 25 years, where local councils as well as ambitious clients have prioritised good architecture in making attractive places to live, learn, work and for leisure.
---