This year's SterlingOSB Zero competition asked architects to design a country escape for up to 10 people, inspired by Giovanni Boccaccio's Decameron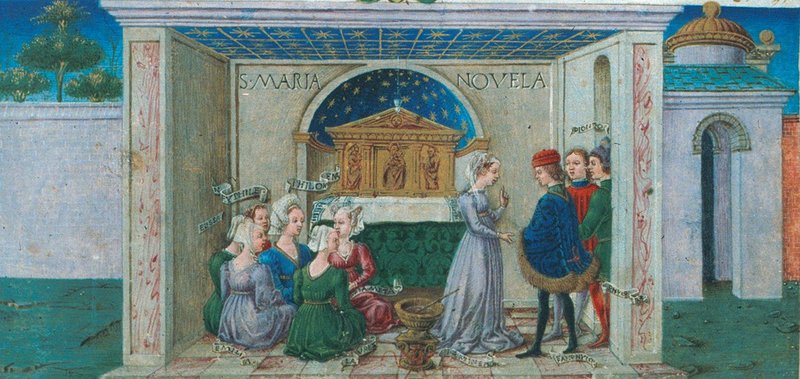 The narrators of the Decameron. Bodleian Library, MS Holkham misc 49f 5r detail. Unknown illustrator c1467.

Credit: The Picture Art Collection / Alamy Stock Photo
When Giovanni Boccaccio penned his Decameron in the mid 1300s, little did he realise that his work, in the centuries that followed, would go on to inspire many other masterpieces of European art and literature. His collection of short stories, told by 10 young people riding out the Black Death in a Tuscan retreat, has been interpreted in genres literary, musical and artistic by illustrious names ranging from Geoffrey Chaucer to Margaret Atwood via Machiavelli, Shakespeare, Botticelli and Rubens.
Now RIBA Journal and West Fraser have given literary-inclined architects the chance to aspire to similarly lofty heights in the seventh annual SterlingOSB Zero competition, The Retreat. Entrants were invited to respond architecturally to Boccaccio's prescient tale of avoiding the plague, by designing an escape for up to 10 people. Here, helped by their built surroundings, the protagonists could retreat from the turbulence of modern life.
In such a place, occupants would form meaningful connections – with each other and with the surrounding landscape – such that they too might be moved to create their own stories.
\The main criterion was, of course, that the retreats must be constructed from SterlingOSB Zero board as their primary material, exploiting the material's properties as a lightweight, durable and sustainable option. Its applications range from structural, to surface finishing and even to construction hoardings. Realistic aspects of the material's properties and capabilities had to be respected, such as its need for adequate external weatherproofing, in order to fully explore and celebrate its potential.
Boccaccio's 10 fictional narrators delivered 100 nested tales, some romantic, some political and some tragi-comic. The competition entries were similarly varied in their responses, from the prosaic to the sublime. Perhaps inspired by the literary premise, or by the enforced seclusion of pandemic lockdowns, 'a lot of thinking went into the narratives behind the designs this year,' according to chair of the judges, RIBA Journal deputy editor Jan Carlos Kucharek. Entries such as Chris Simmons' long-listed Clearing were held securely in place by a strongly presented story.
Some of the entries responded with political critique (retreating from society's ills) others with romantic and poetic scenarios
Judge Stephen Proctor noticed that 'there was an interesting balance between urban and rural retreats', one example being Ella Walklate, Reini Celmins, Alexander Vile and Adam Spreckley's commended Doocots, set in Glasgow. The relative freedom of the competition criteria 'really gave people the scope to think about creating a retreat anywhere they liked – and they went with it,' said Kucharek.
Some of the entries responded with political critique (retreating from society's ills) others with romantic and poetic scenarios. Some were highly practical, others fantastical. David Russell Young's winning entry The Keep, for instance, envisaged a dystopian future where 10 people retreated to a medieval castle (forging an aptly chronological link with the era of the Decameron) in which they discover more recently historic SterlingOSB Zero additions from the current year 2022. Through these light-touch interventions sensitively inserted into the existing structure, the people were able to continue their own stories thanks to a thoughtful and implementable architecture.
Contrastingly, Rob Annable and Justin Pickard's fantastical Oriented Strand Grottoes evokes a watery fenland world of stalactites, mycelium balloons and weathering OSB structures, which leave behind a skeleton of floral and fungal life. Their romantic folly of sorts is a unique response to an often-overlooked property of OSB: its ability to decompose without environmental harm. 'It seems completely kooky but it is romantic in a very sublime way,' commented Kucharek.
'There was a looseness to the designs not seen in previous years,' he added. A fevered morning's debate between the judges – who also included Kristofer Adelaide, Debby Ray and Timea Cooper – resulted in a varied and highly intriguing selection. Just as Boccaccio's 10 fictional narrators formed a literary device framing the 100 stories, here SterlingOSB Zero propped up the fanciful imaginations of the competition winners.
See more on The Retreat
Winner
The Keep by David Russell Young
Commended
Oriented Stranded Grottoes by Rob Annable (Axis Design Architects) and Justin Pickard
The Twice-built Retreat by Tom Birch and Elliot Nash
Doocots by Ella Walklate, Reini Celmins, Alexander Vile and Adam Spreckley
Longlisted
Blacking Mill by Jess Hollis
a-haven by Mirjam Kuntu and Karolina Przynarowska
Aurora Retreat by MAZi Architects (Katerina Examiliotou and Despoina Papadopoulou)
The Clearing by Chris Simmons (Studio Chris Simmons)
Judges
Kristofer Adelaide, director, Kristofer Adelaide Architecture
Timea Cooper, marketing manager, West Fraser UK
Stephen Proctor, founding director, Proctor & Matthews
Debby Ray, head of design, Knight Dragon
Jan-Carlos Kucharek, deputy editor, RIBA Journal
Brilliant architectural minds
My first experience as a judge of the West Fraser SterlingOSB Zero/RIBAJ competition (now in its eighth year) was eye-opening, fun and informative. The entries were thought-provoking and creative, showcasing a variety of brilliant architectural minds. As the marketing manager at West Fraser (trading as Norbord), I work with a lively team of colleagues and agencies and we are always on the lookout for new ideas of how to talk to our customers – the architect being one group I wanted to know more about.
In the real world when an architect is designing a building that will stand for years and be inhabited by many, the considerations are various. It has to work, and products such as ours have to be on the radar (my job!)
The judging process gave me more of an idea of how to address the brilliant people who design our world. I am also stronger now in my technical knowledge and questioning, so am looking forward to working with our team and looking at how we can inspire architects.
I'd like to thank all of the judges for giving up their spare time and for their vast knowledge of the thinking and process that goes into building a structure. Mostly I'd like to thank the individuals and practices that entered for taking time out of busy schedules.
Timea Cooper, marketing manager, West Fraser UK