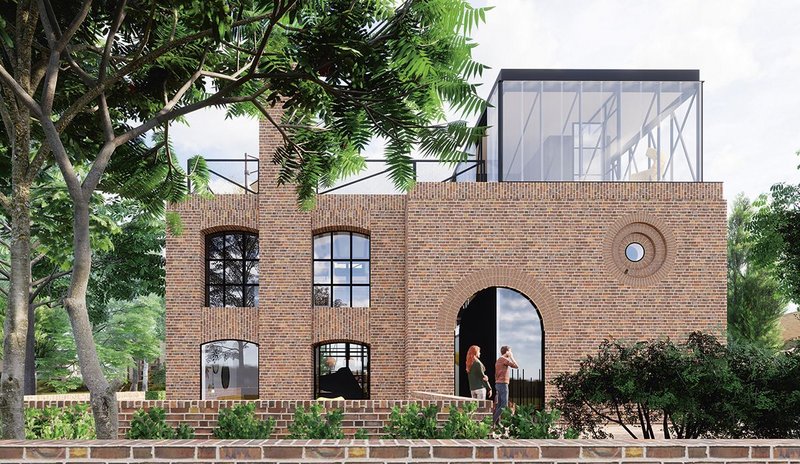 Segmented arches, bull's-eye windows, sun-lounge lintels and steel frames combine to give an industrial aesthetic.

Credit: Andrew Drummond
'This one really makes a statement,' said Derrick McFarland. 'It's dramatic, you just think – wow.' In a 21st century update to The Good Life, 'Thom', 'Margo' and kids are swapping Shoreditch for Surbiton where he can ditch the motorbike for a BMW and she can plant vegetables.
Andrew Drummond's design appropriates and updates familiar tropes of suburban architecture: traditional red brickwork and detailing; asymmetrical composition and massing; an oversized full arch entrance and feature bull's-eye windows. Even the suburban mock-Tudor aesthetic has been acknowledged and upgraded to a more up-to-the-minute look by exposing the black steel frame structure. This design assumes that a new generation of ex-city-living professionals favour the aesthetic of the urban industrial warehouse conversions they left behind.
Sun-lounge lintels facilitate multiple light-filled interior spaces
'Suburban Loft is certainly designed to accommodate a polished lifestyle,' observed Gillian Horn. The designs fully cater to the aspirational nature of detached suburban homes. Sun-lounge lintels facilitate multiple light-filled interior spaces, balconies and a courtyard garden. A self-contained bedroom/study wing can either be 'rented on AirBnB, or as a nanny/manny/granny apartment', states the description. This is a house for millennials who have come of age. The master bedroom leads directly into a pool – 'Just like my one at home!' quipped one of the judges – 'open sliding doors and dive in, or dangle your feet in the cooling waters'. With its large, airy spaces, its conscious effort to maximise the use of, and prominently showcase, IG Lintels to best advantage, and its acknowledged intent to deliver suburban luxury, this was a smart and impressive response to the competition brief.