Villa Trio – a Semi-Detached House for Chingford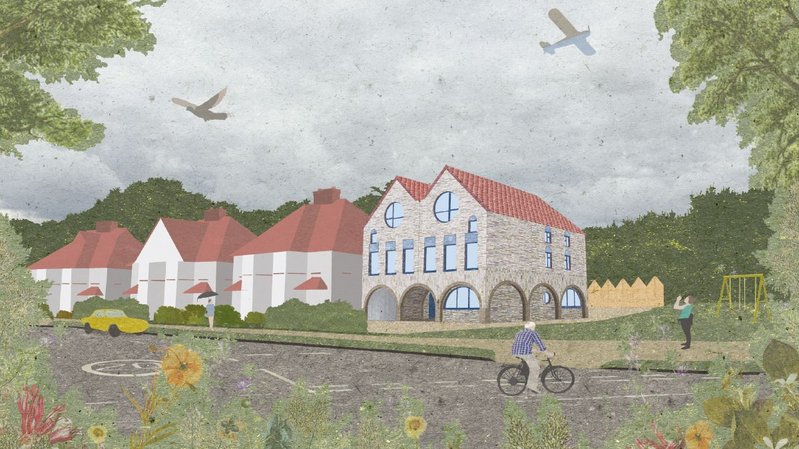 'Suburbs must not lose their sense of the wild,' writes Atkinson.
Tom Atkinson introduces his winning entry by pointing out that suburbia is changing. As such, his winning design, Villa Trio, is designed to be adaptable enough to keep pace with a changing suburbia.
The design is in fact a pair of semidetached homes intended for a narrow plot in 'bucolic' Chingford. Structurally and conceptually, Villa Trio rests on the prominent use of arched lintels: the home's defining feature is a repeatable arched base which accommodates mixed uses at street level. Garage, garden-centred living area or annexe flat – the design foresees changing needs with time. The uniquely envisaged ground floor, with customisations made feasible through the use of standardised lintel additions, is inspired by densely populated rural French towns, where courses of arches surrounding medieval town squares enable a range of commercial, public and private uses and offer protection from the weather. The arches create both distance and coherence between the living areas and street, levitating the building yet mooring it down. 'It's putting the lintels where people can interact with them, anchoring the building to the ground,' said Sandra Youkhana. Derrick McFarland agreed: 'Atkinson's found the product that works, and he's made it repeatable.'
What the judges found 'really unique' and 'impressive' was the well-researched approach, combining historic references with an active and clear effort to engage with the wider issues of suburban housing development today. Referencing Ebenezer Howard's Garden City Movement, Atkinson's design envisages a new type of suburb, one which allows homeowners more flexibility and choices depending on lifestyle, but which is also diverse and dense. Villa Trio's footprint is deliberately small, with dimensions based on 19th century London workers' terraces, so space is gained vertically with double-height ceilings open to the eaves. 'A new Suburban Villa must be adaptable, it must be grand and it must also be compact,' explained Atkinson. 'Villa Trio enables different sized houses to sit next to each other creating varied tenure possibilities…a repeatable array of layouts for housing developments is an attempt to counter suburban sprawl.'
'There's a good analysis of existing building typologies and an attempt to rework those into something new,' said Jan-Carlos Kucharek. Taro Tsuruta agreed: 'He's found a practical application, a means of introducing variation, and envisaged the design as part of a masterplan. He's one of the only entrants to have done that.'
Bordering on postmodern, with its appropriation of medieval tropes and grandiose features such as a mansion-style staircase, this was an 'ambitious' approach to the challenges set by the competition; a 'really lovely' design which admirably 'looks beyond the site itself.