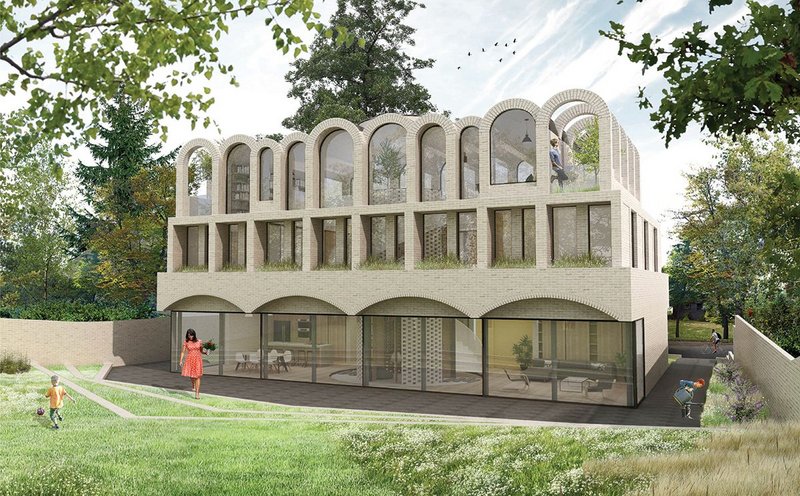 The exuberant vertical stacking of lintels resembles an expo pavilion.

Credit: Selencky Parsons
'I like this one because it's just so mad,' said Jan-Carlos Kucharek. Villa ME!, intended for unsuspecting, leafy Chislehurst, generated the most conversation between the judges. Selencky Parson's concept is to balance the shared social needs of a 21st century family with individual needs for privacy and personal space.
Based on a courtyard villa, its rooms are organised around a shared central area topped with a roof garden. This open space cuts through three levels, in which rooms graduate from public to semi-private to private. So far so good, but the judges were divided. Horn was nonplussed by the 'confusing' interior. Taro Tsuruta pointed out that bedrooms divided by moveable partitions are hardly ideal for privacy in an intergenerational house.
But the 'unconventional' appearance – embracing the use of five different lintels (arch, segmental, bow, standard and corner) with gusto – was an even bigger talking point. 'Arches are very in at the moment,' Tsuruta began, before trailing off '…but it's kind of scary'. 'It is very excessive,' Gillian Horn agreed. 'It's like Basil Spence's University of Sussex meets MVRDV's 2000 Dutch Pavilion,' said Kucharek. Ultimately the judges agreed that this joyfully over-the-top stacking of lintels was 'exploratory', 'fun' and 'distinctive' – a celebration of excess that eventually worked in Villa ME!'s favour. 'It's a good example of an investigation into what's possible with the materials,' said Sandra Youkhana. 'It's encouraging to see something that's a little bit wacky.'