RIBA Journal, in conjunction with industry-leading manufacturer IG Lintels, challenged readers to rethink suburbia with a design for a home that meets the needs of contemporary suburban occupants, offering a cash prize of £2,000 for the winner and £500 for each of the three commended entries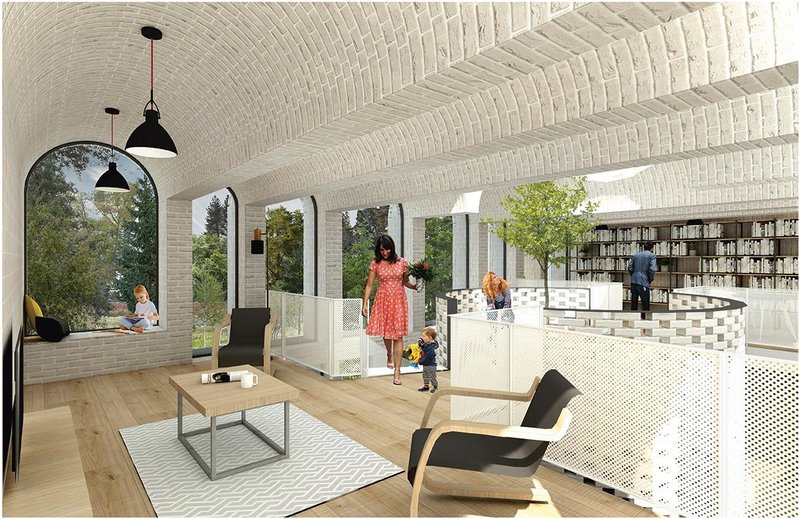 A vaulted arched ceiling in the central living space of David Parsons' commended Villa ME!
'Suburbs must change,' begins our winning entrant in his introductory text. 'But they cannot lose their sense of the wild.' This statement encapsulates the shifting nature of suburban identity. It is a liminal zone between town and countryside, overlooked in more ways than one, where life is a constant negotiation between privacy and exhibitionism, convenience and compromise, conformity and self-expression.
Many notable architects, from Edwin Lutyens to Frank Lloyd Wright via Eric Lyons, Robert Venturi and Denise Scott Brown, have ventured into suburbia at some point in their careers, finding ample space there to explore and question what makes for suburban living and a good suburban home.
In conjunction with industry-leading manufacturer IG Lintels, RIBA Journal asked architects to follow in these illustrious footsteps with a competition, Spanning Suburbia. The brief was to rethink suburban living by designing a domestic house to meet the needs and aspirations of a new generation of suburban family.
Literally and metaphorically supporting these ideas must be the lintels themselves. We stipulated that the main construction material should be traditional brick or block, and the main structural support should be the steel lintel. Each entry had to incorporate at least three of a range of lintel features – such as the gothic arch, feature brick-slip lintel, corner lintel or bull's-eye lintel (a full list is available on IG Lintels' website) – all key products specified in well-designed residential homes.
The judging panel was made up of IG Lintels managing director Derrick McFarland; Taro Tsuruta of Tsuruta Architects, designer of the award-winning House of Trace; Sandra Youkhana, co-founder of You+Pea; Gillian Horn, partner at Penoyre and Prasad; and RIBA Journal senior editor Jan-Carlos Kucharek, who led the discussions.
The judging involved an informative exchange of ideas, centred around a shortlist of 25 entries, approached from the diverse viewpoints of manufacturer, specifier, designer and critic. It was a jovial morning, with plenty of good-natured repartee. 'Do you think that they're using as many lintels as they can in order to impress us?' mused Youkhana, considering one of the more outré examples. 'Well if people take one look at it and say "that's crazy", but it gets them talking, then that's not a bad thing,' quipped McFarland. This is about shaking up suburban sleepiness, after all.
These entertaining diversions didn't detract from the seriousness with which the panel considered the entries. The judges were impressed by the range and ingenuity of the responses, which addressed a variety of timely issues. There was one winner, three highly commended and four further entries that were felt to deserve special mentions. The winning design, Tom Atkinson's Villa Trio, proposed a sophisticated and well-researched answer to the problems of densification and expressing individuality with a restricted palette. Michael Trentham and Leftos Dousis' special mention, A Piece of England to Call One's Own, tackled head-on the issue of low-quality cookie-cutter housing-development homes. Some, such as Andrew Drummond's highly commended Suburban Loft, proposed new typologies for aspirational modern living for homeowners used to a bohemian urban lifestyle. Other designs, such as Dave Parsons' highly commended Villa ME!, questioned how individuals live and interact in an intergenerational suburban home, exploring notions of privacy and selfhood through adaptable room layouts and modular living spaces. Influences – from punk to Palladio – were equally varied and fascinating.
The judges sought a winning design that was energy efficient, highly creative in its employment of a wide range of IG Lintel features, joyfully expressed the needs or aspirations of its occupants in novel, thought-provoking ways, and, importantly, were able to answer sensitively – in Taro Tsuruta's words – 'why have they made the decisions they have?' The competition stipulated that all longlisted entries must 'embody the utility, contingency and personality exhibited in the best suburban home design'. The selection did not disappoint, confirming the words of Renzo Piano: 'There is a kind of beauty in the suburbs.'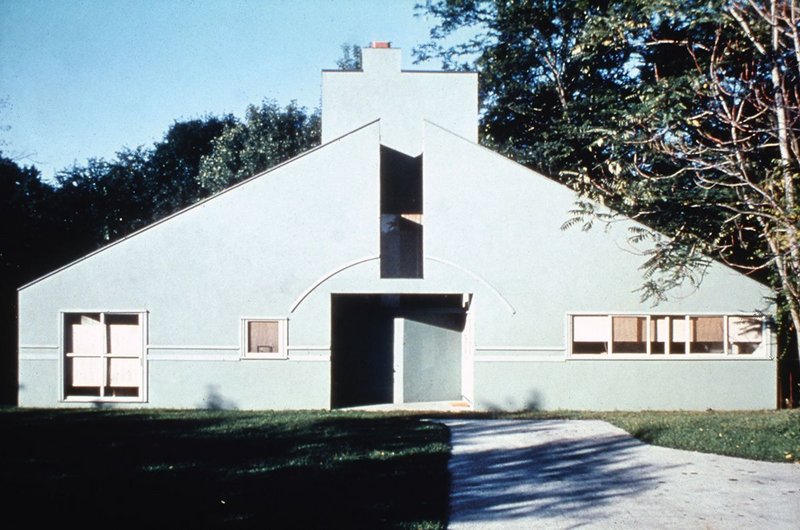 The Vanna Venturi house by Robert Venturi, 1962-64, helped redefine suburbia.

Credit: AA Photo Library
Housebuilders, take note
IG Lintels is delighted with the response to our challenge to 'rethink suburbia' and the many interesting interpretations of what suburban living might look like through the eyes of an architect.
It may be true that in the race to solve the housing crisis and build as many homes as possible, stylistic concerns have been forgotten. It may also be true that unavoidable densification and a chronic skills shortage mean it is easier (and more profitable) to build 'boxes'.
We believe the suburbs deserve more than that. On closer inspection, suburbia is home to a rich architectural heritage that deserves our attention and respect. We set this challenging competition because we strongly believe interest and variety can be brought to suburban projects without adding cost or delays.
Through our involvement in the judging panel, we really started to understand the diversity of suburbia, from stunning architectural schemes to traditional projects, and from single houses to scalable designs. The ambition and imagination of some of the entrants created an enthusiastic debate among the judges, and while a worthy winner was agreed on, others were rightly highly commended.
We were impressed by the fact that the eventual winner gave careful thought to the whole of the suburb and how the design might be built at scale. While individual and creative, the design has an air of humility and it's easy to see it as part of an interesting scheme by a large housebuilder.
Modern technology means there is no need to build suburban houses that all look the same. Architects can design unique homes to truly inspire their occupants, while staying within realistic, scalable parameters. Certainly if the nation's housebuilders were to embrace some of the designs submitted to this competition, it would be enough to make homeowners fall in love with suburbia again.
Derrick McFarland, managing director, IG Lintels