Four entrants the judges thought worthy of further comment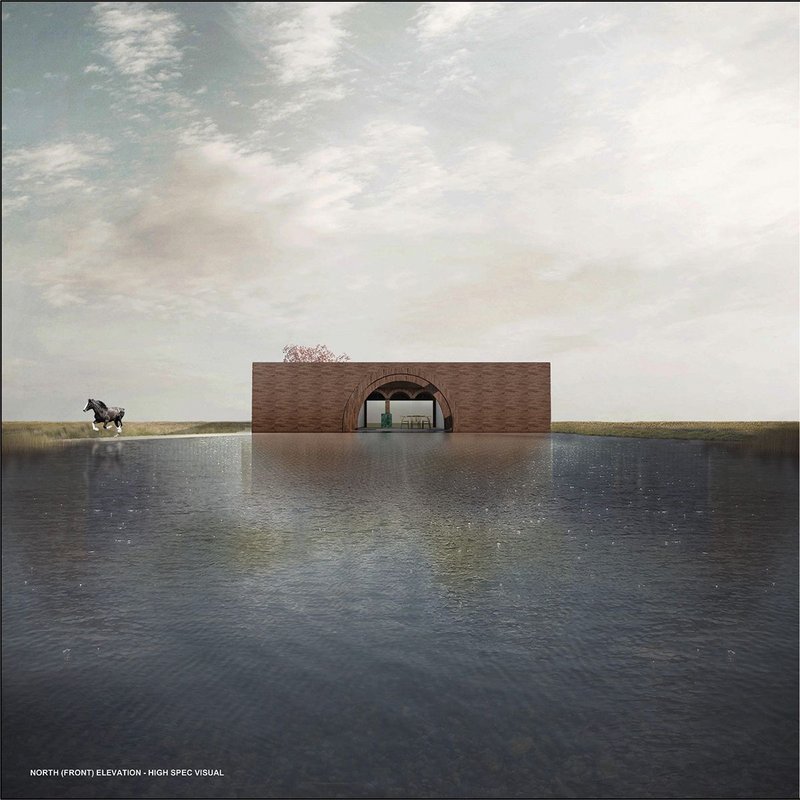 Villa EQ: a vaulted ceiling and a grand frontage reinforce the stable/coach-house typology.
Carlos Gris, Villa EQ
'I rather like this one,' said Jan-Carlos Kucharek. 'It's very simple. There's quite a lot of elegance to it.' Villa EQ is a modern reinterpretation of the stable/coach-house typology. The judges praised the way it combines traditional and modern elements in a bold and evocative way. A large postmodern window allows for expansive views over the surrounding area, framed by the arch of a grand frontage.
The roof, a course of arched lintels, integrates the brick materiality into the open-plan interior, while reinforcing the equestrian farm-building typology of the neighbourhood. Sanddra Youkhana praised the hierarchy of different spaces: 'I think it uses the changing scale of the lintels to try and draw you in,' she said. It's a 'simple design which achieves complex ideas'.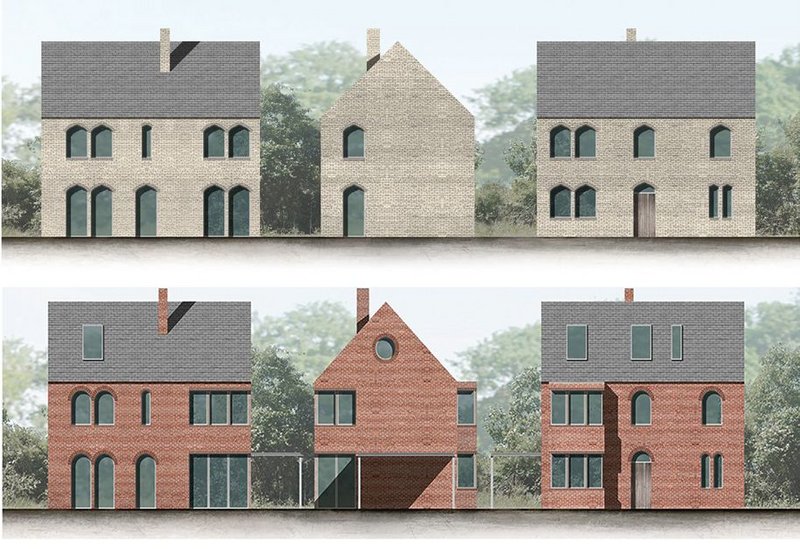 A Piece of England to Call One's Own: an affordable, customisable, pattern-book suburban villa in different sizes, finishes and styles suits a range of aspirations and budgets.
Michael Trentham and Leftos Dousis,
A Piece of England to Call One's Own
Deceptively ordinary at first glance, Trentham and Dousis' designs aim to raise the standard of housing development homes, maximising the potential for replicability and allowing for customisation through standardised lintel 'bolt-ons'. Combining historical character with modern comfort, different lintels (Roman, full arch, or gothic) allow for alternative styles, while a choice of bricks (red brick, flint or Sussex stone) suits local contexts. These homes are not intended to be standalone – only when seen collectively do they acquire a certain 'presence'. 'They remind me of a row of 19th century gothic alms-houses,' observed Jan-Carlos Kucharek. 'I find them rather charming,' Derrick McFarland agreed. 'If all regional housing developers designed homes of this quality, we'd all be happy.'
Fahad Malik, The Millennial Villa
This entry was a deliberate subversion of the competition requirements, opting to answer this question instead: 'can the typology of an affluent suburban villa be developed for contemporary urban living?' The site is suburbia in reverse, a Victorian Ladbroke Grove estate that has now been subsumed into the city. Taro Tsuruta found it 'aesthetically satisfying'. 'It reminds me of a modern-day Villa Rotonda.'
In keeping with the practice of portioning up Victorian houses into flats, the Millennial Villa is divided into eight self-contained units offering apartment living appealing to a younger generation. The design makes use of arched lintels to create deep terraces, resulting in a stark interior lighting effect which indirectly privatises the spaces. 'I don't think we should rule out gloomth,' Kucharek pointed out. 'The considered way that light enters the building is just as important as having lots of it.'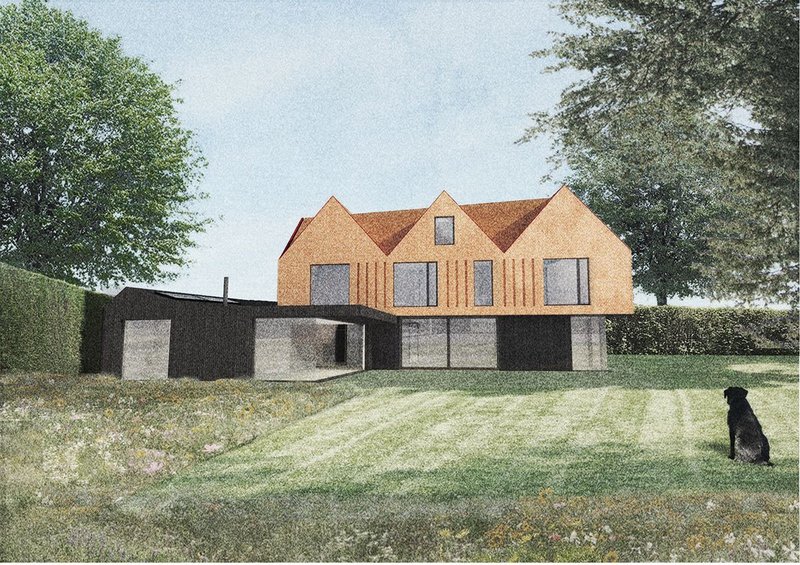 Floating Brick Monolith: IG Lintels brick slip soffit solution around the perimeter edge enabled a floating upper storey.
Steven Clarke, Floating Brick Monolith
Floating Brick Monolith is a live project at Chesham Bois, Buckinghamshire. Clarke impressed the judges for his design's honest approach: 'So often brick buildings are designed to look like they are loadbearing brick, when they are not' he writes. 'We were keen to demonstrate that in order to elevate the brick, lintels had to be used.'
The design is reliant on IG Lintels' brick slip soffit solution around the perimeter edge, to create the floating detail. 'It's an innovative use of a product which is generally employed in high-rise commercial settings but rarely in residential projects,' explained McFarland.
The judges praised the design for its use of locally sourced materials (Chiltern brick, clay tile and timber) as well as its environmental approach: it is naturally ventilated, with brick fins on the south east elevation for solar protection, photovoltaics/solar panels and a ground source heat pump. McFarland said: 'They've done their research and used the lintel in an unconventional way to find a practical solution to a problem, which is to be commended.'