Covid hasn't dampened our passion for architecture. 7000 readers have proved themselves excellent judges in response to our Best in Show competition – producing considered responses in their votes for their favourite building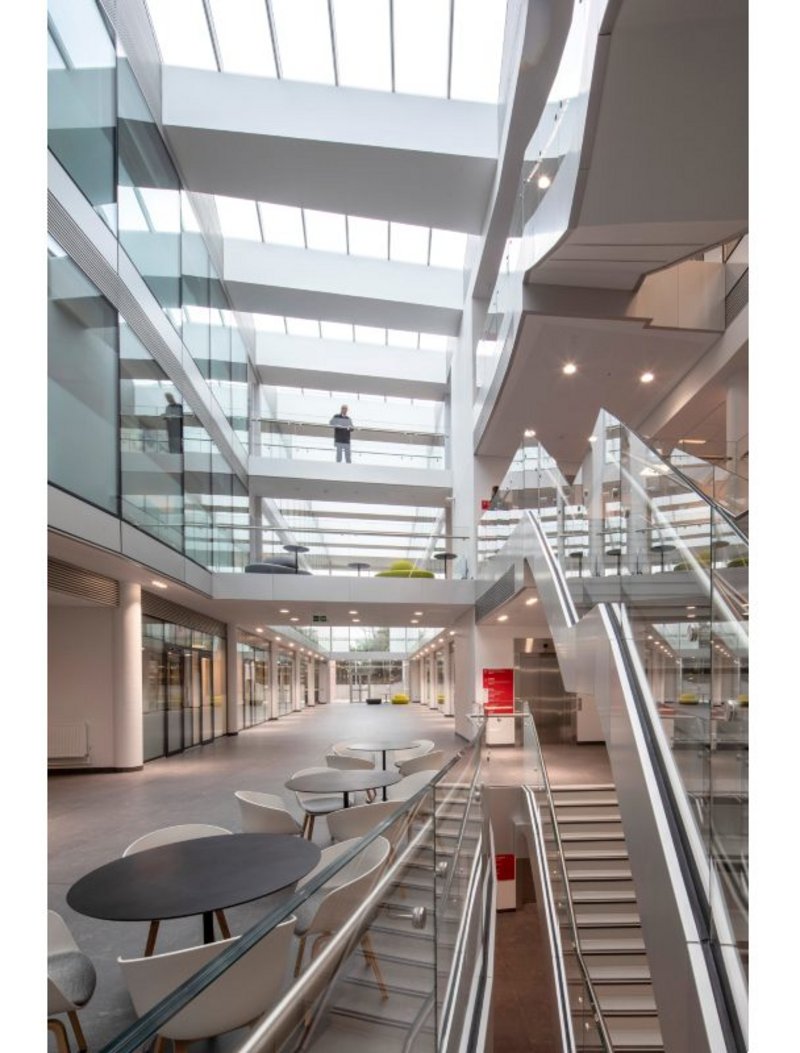 Northern Ireland winner: Scott Tallon Walker Architects and White Ink Architects' School of Biological Sciences at Queen's University Belfast.

Credit: Peter Cook
The vote is in. It won't tell us next year's Stirling Prize winner or even predict the buildings of the year in each region but it does give a clue to some of the buildings that most affect people's lives and that have most impressed readers, both RIBA members and the wider public. There were over 7000 votes cast over 16 nations and regions (including a sub-divided London).
The biggest winner was Scott Tallon Walker Architects and White Ink Architects' School of Biological Sciences at Queen's University Belfast in Northern Ireland. Voters commented that the building had really transformed the area with a 'sympathetic' and 'contextual' design, with one noting how it has opened up the area with a new pedestrian route. It found itself in a hotly contested battle with ARCEN's Davagh Observatory, which makes the most of the dark skies of the area to encourage observation, as well as acting as visitors' centre for the forest. Comments drew out how 'unique' the project was and how it 'beautifully' blends with the outstanding landscape.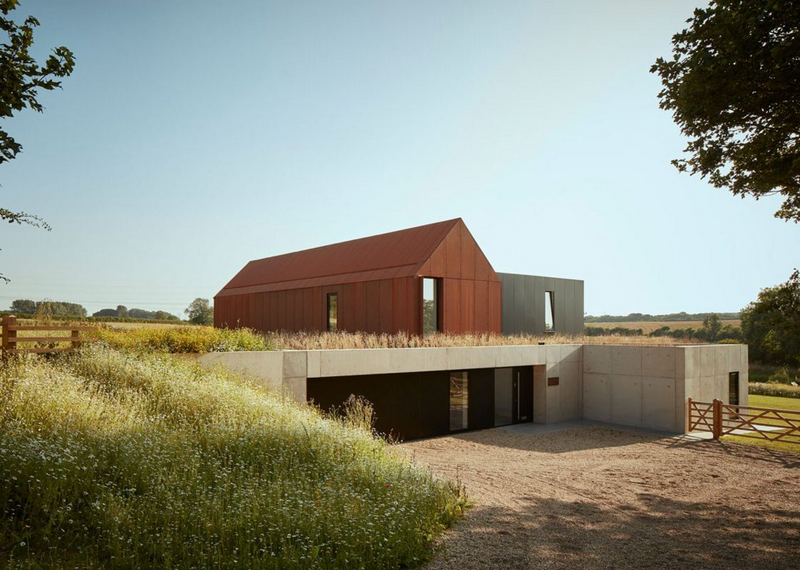 Yorkshire region winner: Barrow House in the Lincolnshire Wolds by ID Architecture.

Credit: Andy Haslam
You might think that private houses would do less well in a vote of this sort – they have less of a local presence and profile. But our voters chose them as their top buildings in a third of the regions. Barrow House in the Lincolnshire Wolds Area of Outstanding Natural Beauty got through planning as Paragraph 55 house. It seems that the 'outstanding or innovative' design this required has endeared it to our commentators, who love the 'crisp lines' and the Corten barn-like volume. It won for ID Architecture in Yorkshire region.
Three homes with dramatic reworkings of old buildings also performed well in Yorkshire: Thorney Barn, Halifax, The Old School, near York and Manor Ridge Barns near Helmsley.
In the South East, the airiness and sustainability of the rather handsome arts and crafts-inspired Sumner House in Sevenoaks by ADP drew most comments, but one voter also showed they had their feet on the ground. 'Feasible, sensible and sustainable,' they wrote.
Elsewhere the houses that proved popular are brilliant, kooky solutions on complex sites. In North London, Sanchez Benton Architects' canalside Lock Keeper's Cottage cleverly worked around the chunky roots of the weeping willow that defined the space's character. In South London, Lightyard House captured people's imaginations as JaK Studio cleverly brought light into a space without external windows. In Shropshire a Corten back extension, Cheshire Street by form:form architects, took winning place for the West Midlands.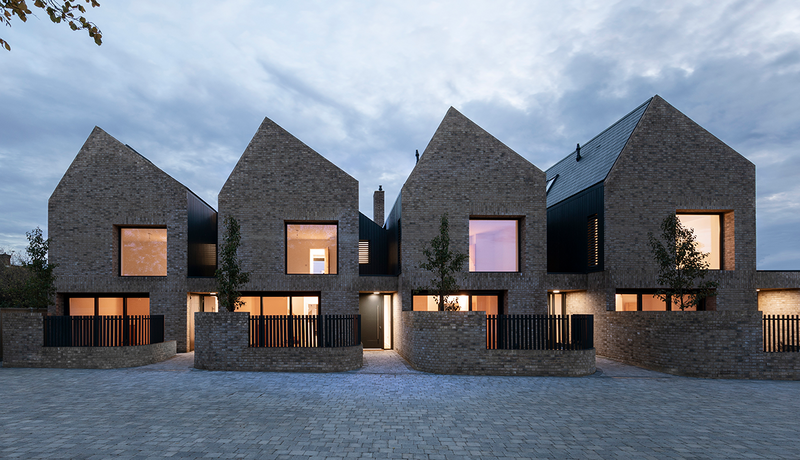 East region winner: Woodside Mews, four homes in Levesden Hertfordshire, by TAS Architects.

Credit: Jeremy Phillips
The one housing project that made it to top of the list was in the East region: Woodside Mews, four homes in Levesden Hertfordshire, by TAS Architects, with voters praising the 'simplicity', 'cleverness' and the fact these were applied to a housing terrace. It was against tough competition with the Imperial War Museum Paper Store by Architype and Hugo Hardy's project, The Byre and The Garrett, also attracting a large number of votes.
There were plenty of commercial buildings to choose from in the regional shortlists. Perhaps aptly for a year when most of the population spent less time in the office, usual offices didn't perform so well in the voting. There were only two that made it as top regional buildings – both for owner occupiers. In the South that was Promega UK Headquarters designed by ArchitecturePLB with Perkins+Will, the stone and zinc of its two wings of lab and offices making a marker of quality for the biotech company in its Hampshire science park. In the North East, Tombola House by Ryder won with its three roof pitches and grand atrium taking on Sunderland's riverscape.
Also notable by their absence are starchitects. But one great name in architecture, Rogers Stirk Harbour + Partners, did win in West London with its naturally ventilated Centre Building for the London School of Economics. In the same area Stanton Williams' Zayed Centre for Research into Rare Disease in Children also gained a strong share of the votes.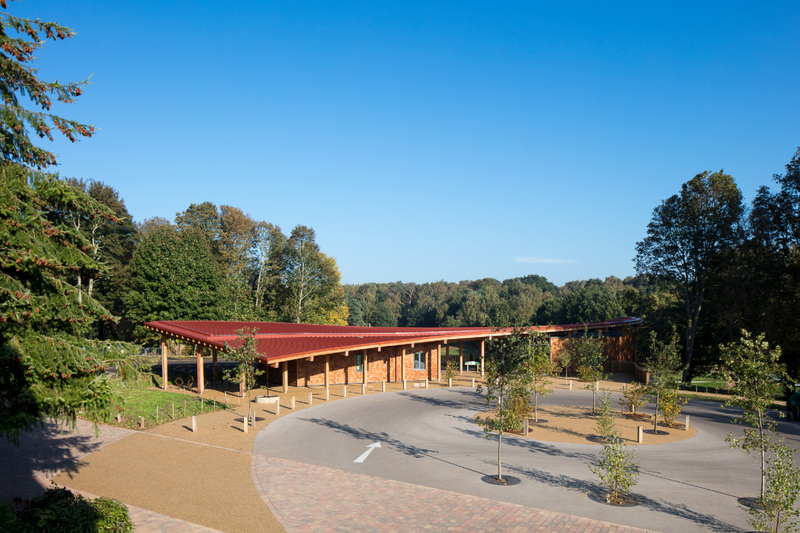 East Midlands winner: Sherwood Forest Visitor Centre for the RSPB designed by JDDK Architects.

Credit: Sally-Ann Norman
Three community spaces did well in their regions. Sherwood Forest Visitor Centre for the RSPB designed by JDDK Architects in the East Midlands, a deft garage conversion into Beulah Road Studios in East London by BAT Studio, and in the North West a restoration of Manchester's fire-damaged Wythenshawe Hall by Buttress Architects. Those winners with more specially-defined programmes, but still at the heart of serving their communities, included the renewed performance venue St George's Bristol by Patel Taylor in the South West and the comforting Maggie's Cardiff for cancer sufferers by Dow Jones for Wales. In Scotland the stand out winner was the 12,225m2 brick Bertha Park High School in Perth by NORR Consultants.
We don't know who voted for what but this shows a very engaged constituency: not only did they participate but a huge percentage of the voters also took the time to research the other buildings in the region (which we can see courtesy of the analytics) and to comment on the one they had chosen, from aesthetic and planning issues to technical performance. If you took part then thank you. If not then please join us next time. All the shortlisted projects now go forward to the RIBA Awards in 2021. Good luck to them!
---
Apologies to Bennetts Associates whose Royal College of Pathologists was not linked to the regional landing page