But at the annual roundtable RIBAJ's 2019 cohort is concerned that clients, other professionals and even architects in training don't share that evaluation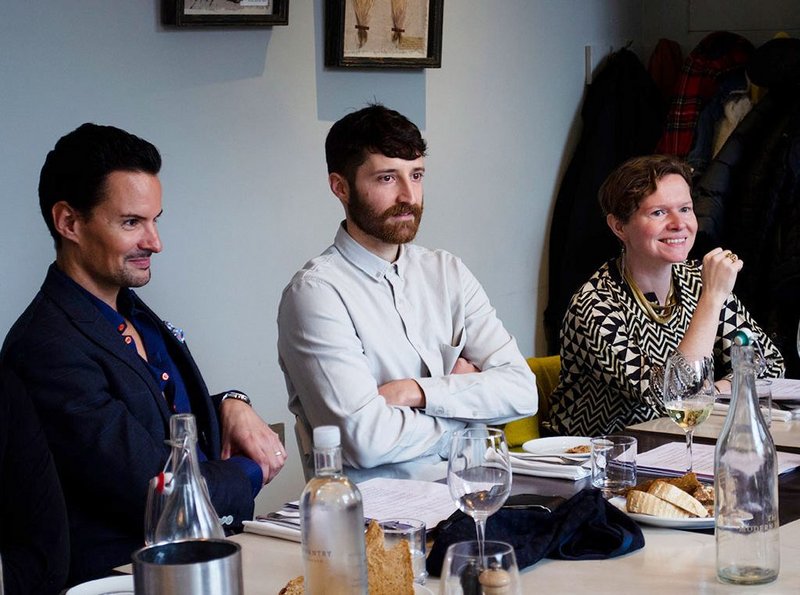 (From left) Origin sales and marketing director Ben Brocklesby, EBBA Architects director Benni Allan and Powell Tuck associate Joanna Asia Grzybowska.

Credit: Charlotte Collins
'Is everyone always bullshitting their way through everything?' is not the question we expected to end the roundtable at The Modern Pantry in London with RIBAJ's latest cohort of Rising Stars. The conversation had covered everything from working with contractors, procurement and planning to education and collaboration. It had probably gone deeper than any of the roundtables with other winners previously, and had been the most structured and focused. But here everyone was discussing imposter syndrome, how it affects projects big and small, how to manage it and whether it ever really goes away. Are 50-year-old architects troubled by self-doubt too?
Whatever, there's an underlying feeling in client meetings that the younger you are, the less you are believed to know – not good news or representative of this year's cohort of early career architecture professionals. They could be said to thrive against all the odds. Maria Knutsson-Hall, associate at Populous, often finds herself the only woman in her 30s in the room. As a result, Populous decided to provide her with training in presentation techniques and leadership and she now recognises that 'It's more about having confidence and knowing most of the time I do know more than other people in the room. Some people's jobs are about pushing other people down.'
For Benni Allan, director at EBBA Architects, the only approach is to answer what you know and accept 'You are never going to know everything about a project.' But Hugh McEwen, partner at Office S&M which has designed a rubber-clad house extension, reminded the group that to do new things, guessing is often part of it.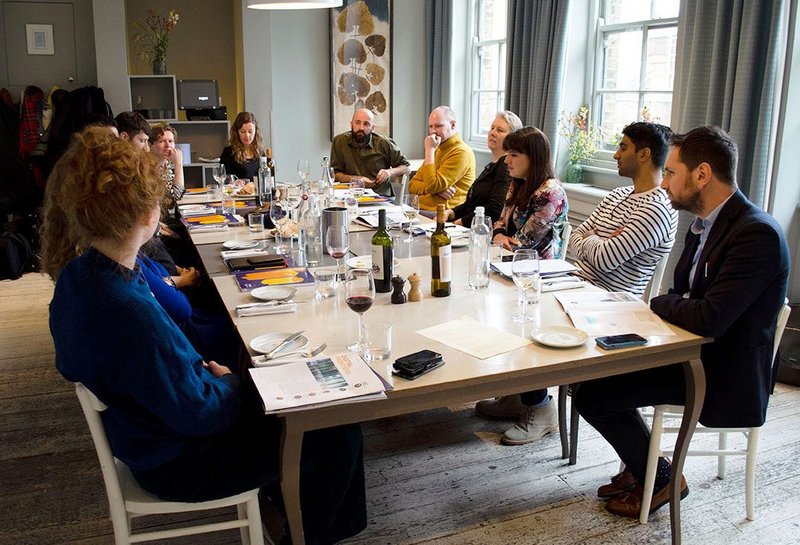 This year's roundtable with the 2019 Rising Stars cohort was held at The Modern Pantry in London and chaired by RIBA Journal's Eleanor Young.

Credit: Charlotte Collins
Finding answers to how to be a better architect is where the roundtable began, with a discussion about the ways the Rising Stars had spent their £50 RIBA Bookshop voucher. McEwen had picked out Tom Dollard's Designed to Perform: An illustrated guide to delivering energy efficient homes. Nick Tyrer, who works on huge sports infrastructure as associate director at Pattern Design, had chosen to buy Small Practice and the Sole Practitioner – he isn't planning on leaving his job, he just wants to take on more small projects on the side. Meanwhile, just back from Petra with her Bartlett undergraduate students, and inspired by the amazing hydraulic engineering there, Knutsson-Hall bought Reinventing Sustainability: How archaeology can save the planet. All are books that rethink the way things are currently done.
From there, though, the conversation quickly turned to Joanna Asia Grzybowska's Mycelium Studio project of job swapping to build understanding between architects and contractors and smooth the process – something the Rising Stars thought could improve relationships with clients too. One suggestion for doing this was architects becoming clients/developers themselves, as Carl Turner Architects has done by rebranding to Turner Works. But as many people around the table pointed out, with house and land prices as they are, that's a very distant prospect for this generation of architects. Scott Brownrigg associate Felicity Meares has worked as her own contractor and labourer though, and it did help her appreciate timescales, workflows and not changing the design mid-way through, as well as the professionalism that comes with proper training and experience of, as Tyrer added, having a plan B.
Knutsson-Hall said this is not an issue in the United States, where her latest project is, because there everything is off the shelf. It doesn't necessarily make the architecture better but the schedules won't allow for bespoke elements (for speed, programming and phasing) so architects at Populous there always use what they last specified and there's a lot of early research, a huge product library and a lot of knowledge about what is on the market. 'Fewer drawings and more specification… it can be useful on large-scale projects.' Collaboration could, however, take other forms, for example, between architectural practices like Office S&M's teaming up with AOC Architecture – this is a generation used to and keen on sharing.
As the director of a new small practice, Allan raised the issue of procurement as the most pressing issue within industry – how so many projects require a certain size and type of practice, minimum turnover and direct experience. Southwark Council has recently added a category for practices with a turnover of less than £2m for its framework and while the intentions are good, it's still a level that would capture many very established firms – that's why EBBA sought schools work in Spain. It also means that the same big practices hoover up all the work. Then came the issue of fees being forced down through multiple rounds of best and final bids. 'So often clients lop off the top and bottom, which makes it more complicated,' explained Knutsson-Hall. Some members at the roundtable thought reintroducing fee scales would help sort it – an opportunity after Brexit perhaps, although that itself may make clients more risk averse.
The discussion pinned the source of the problem on the public not valuing the contribution of architects; not a new sentiment. But what was new was the idea that architects and trainees don't value it either, particularly the experience that comes with the lengthy training architects are required to do. More and more senior people in practice are, apparently, not qualified architects and haven't even done Part 2. 'These are important years for learning to recognise opportunity,' said McEwen. There is a perceived lack of value in architectural education that doesn't seem to be the case in countries like Denmark, where Allan reported the children's education space is busy 'like a zoo'. Many of the Rising Stars are university tutors and they worry that students focus so much on what they think they need for the job interview after (eg Revit) at the expense of other skills. The pressure of it all, McEwen adds, affects their mental health too.
And with that the RIBAJ chair Eleanor Young asked for a show of hands who among the group had paid £9,000 tuition fees. None, five had top-up fees. But it was clear that this group wouldn't have necessarily studied architecture if they'd had to. 'I'm not sure it's worth the salary students come out with,' commented Meares. Knutsson-Hall also questioned whether colleagues returning from alternative routes to Part 2 really had all the skills they should have learned. Allan noted, however, that people with the right design skills don't always get employed and there was work to be done in improving what architectural education might be: 'There's the expression oven-ready architects, but I went to a creative school and I didn't feel like I needed fifth year. It felt like a vanity – a lap of honour. It would have been good to have parts of Part 3 drawn into it.'
Some ideas were postulated about what this might include: Building Regs, specific knowledge on how to build and waterproof as well as going on site. Architect Muneeb David from Architecture Initiative seemed to speak for the group when he said: 'That's why we all loved Part 3, going on site makes it become real.'
Even that didn't necessarily prepare people enough, though, and the variation in experience of the workplace around the table was vast – some people had been thrown into huge projects at an early stage, completely alone and unsupported. While this had helped earn Meares her place in the cohort, she said it felt like a survival that paid off, but which may not have. She's now trying to put measures in place to prevent that from happening again.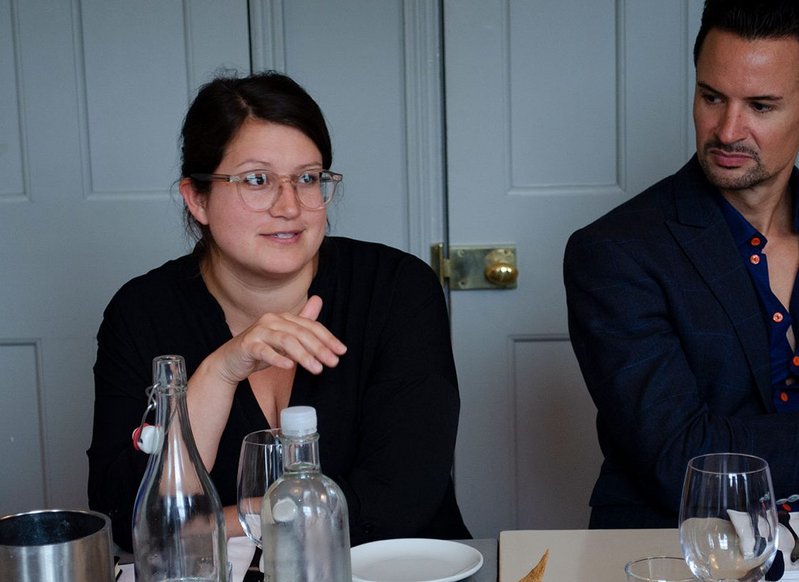 From left: Maria Knutsson-Hall and Ben Brocklesby.

Credit: Charlotte Collins
Nevertheless – and here we come back to the confidence issue – she hadn't believed she could be a good architect until she'd designed a concept and gone all the way through to delivering it as a building. But it also brings us back to the issue of big practices scooping up small practice-type work and, as expressed by McEwen, the shocking contempt of big practices that then dumps this work on unsupported junior staff when it could have been the jewel in the crown of the right-sized firm, and lots of staff would be working to deliver it. However, David did remark that many hierarchical firms would never let a Part 2 even go near the design of a handrail.
The other big theme of the lunch was planning, in particular why architects aren't mandatory for a planning application, as in so many countries. 'I live in Surrey,' explained David whose sister is a planner in Guildford. 'As soon as you step out of London, the quality plummets – ordinary people think they can design.' Haptic associate architect Madeline Kessler thought it came down to planners who aren't receiving much design education.
Grzybowska contrasted this with the situation in Poland. 'There it's protection of profession rather than title. There you have all sorts of regs about what level your windows should be to insert some quality.' Meanwhile, as Knutsson-Hall explained, in Sweden, where she grew up, anyone can call themselves an architect but every village/borough has someone who is design trained taking care of a detailed local plan that has criteria which means who ultimately designs a building is less relevant. Croydon has started an architect retention initiative, something that is necessary with the housing figures that need to be achieved. However, Allan was keen to interject that architects don't want another type of consultant to pop up taking work that should be done by them: 'We can do more than just buildings.' By hook or by crook, this group will show you.
---
RIBAJ Rising Stars is a collaboration with Origin Doors & Windows. Watch video interviews with the individual winners at their profiles here. The search for 2020's RIBAJ Rising Stars will begin in June 2020.