Technology is creating sustainable, energy-efficient, low-impact ways to make buildings. A fire-resistant CLT tower, thin-shell concrete and bacteria-grown tiles lead our most frequently-read reports on innovative products
It's always been our plan to keep you up-to-date with the latest innovations, and your regular clicking on our weekly Friday tech stories suggests that you agree with the approach. Some of these were 'oven-ready', while others remained material developments that promised much for the future. Here, find the five top stories that caught your specification eye.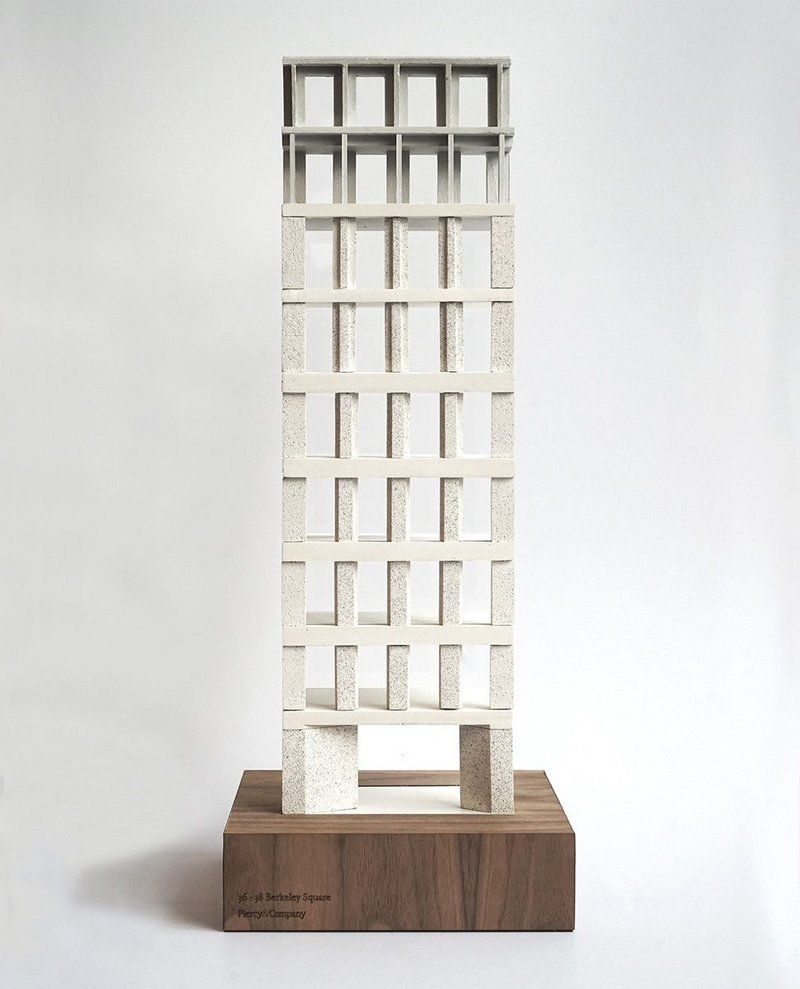 Model of 38 Berkeley Square front facade by architects Piercy & Co.

Credit: Piercy & Co
#1: Exposed CLT tower goes up in London under new fire regulations
Published 14 January 2022
Mayfair might be more often associated with reactionary conservatism, but Piercy&Co has turned that on its head with its 38 Berkeley Square project for client Astrea. With engineer Elliott Wood, its proposal for a nine-storey tall commercial office building of hybrid steel and exposed cross-laminated timber frame plus exposed timber floors and soffits piqued the interest of readers in a post-Grenfell, sustainability context.
More on timber towers and fire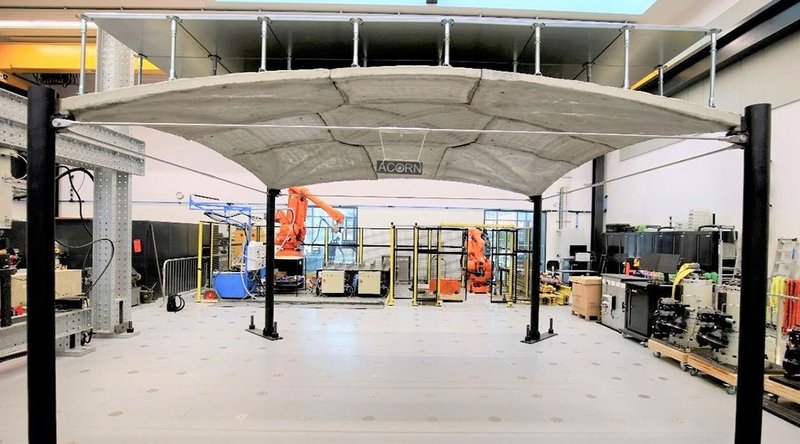 The prototype 4.5m x 4.5m slab installed at Cambridge University.
#2: Thin vaulted floor slab could slash embodied carbon by 60%
Published 18 February 2022
There was something 'Back to the Future' about the ACORN project that kept ribaj.com readers returning to this story about the Soane-like, thin-shell concrete structures that could be adapted to meet modern construction needs. Developed by various universities, Foster + Partners, Tonkin Liu and engineer Buro Happold, its structural economy claimed to potentially cut a building's embodied energy by 60% while looking stunningly elegant.
Read more on the ACORN project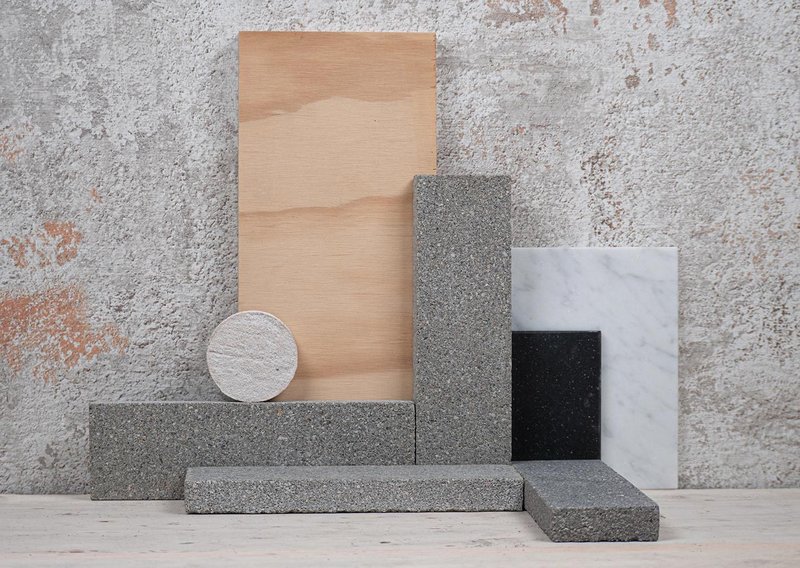 BioBasedTiles are intended for external cladding, flooring and interior wall applications.

Credit: StoneCycling
#3: Bioconcrete architectural tiles emit 95% less carbon
Published 15 July 2022
More prick-up-your-ears percentiles came in our tech story about Dutch company StoneCycling's collaboration with US-based biocement producer Biomason and their BioBasedTiles. These precast tiles, 'grown' from bacteria, are three times stronger than traditional concrete blocks with just 5% of the carbon footprint. Using processes similar to the way coral reefs grow, it's the reverse of techniques used to make Portland cement that generates that 95% reduction.
Read more on tiles grown from bacteria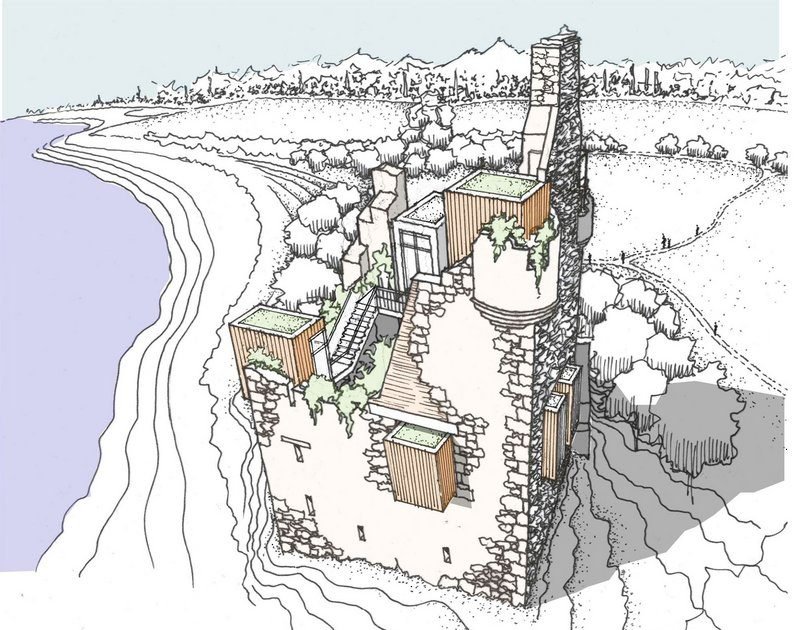 Credit: David Russell Young and Henry Claymore Young
#4: The Retreat winner: The Keep
Published 28 September 2022
RIBAJ's annual reader competition with SterlingOSB Zero always produces great responses from architects and this year was no different. Our winner, 'The Keep' saw a dystopian future in which the material is used to repurpose an ancient castle ruin for a new, defensive purpose. Other imaginative commended entries saw SterlingOSB Zero used to cast the building in which it was then reincorporated and a beautifully philosophical reading of the mortality of the material.
Read more on the finalists in our SterlingOSB Zero competition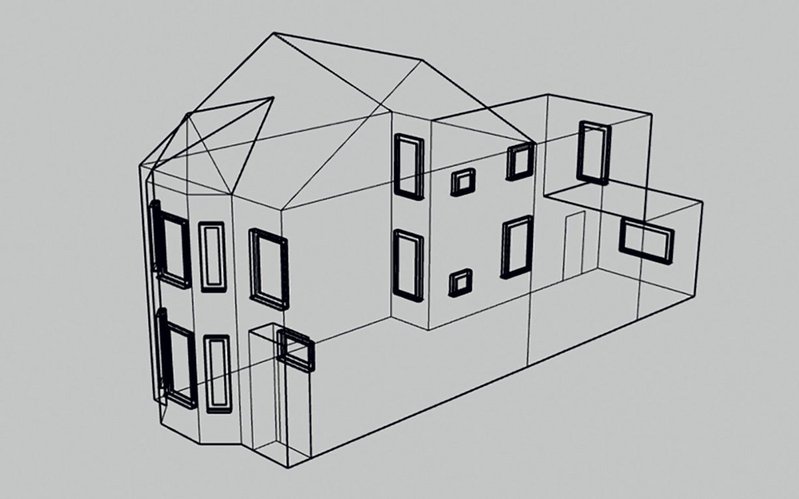 Moreira models his own home in SketchUp.
#5: How SketchUp plugin DesignPH can facilitate effective retrofit
Published 21 November 2022
Building Performance consultancy XCO2's Ricardo Moreira got up close and personal with PiP readers about a project close to his heart – the retrofit of his own London home. Highlighting the scale and ubiquity of the task, he told us about his adoption of the unfeasibly useful DesignPH, a SketchUp plug-in that allowed him to calculate the potential energy savings he could realise, depending on what he specified. The truth is out there!
Read more on Moreira's personal cost-efficient retrofit
Evergreen Products article 2022 – the most popular archive article that you kept coming back to again and again:
Flooring specification for dementia patients
Published: 2 June 2015
In Pamela Buxton's incisive piece on flooring specification, what you come away with is the realisation that the older we get, the more flooring matters. And it's not just about dementia but how our vision degrades over time. In it, Buxton covers views from the Alzheimer's Society, architects working in the hospital and care sectors and flooring manufacturers to help architects optimise their specification choices. And there are three case studies too in this comprehensive article on flooring best practice.
Read more on flooring for dementia patients
Read more of the top stories of 2022: Top 5 buildings; Top 5 intelligence: Top 5 culture stories