There are 49 National Award winners: what does the list say about the condition of architects and architecture in the UK?
The 49 winners of the RIBA National Awards have been announced. They bring together some of the most iconic buildings of recent times, such as RSHP's Leadenhall, and some of the most understated yet transformative projects like Walthamstow Wetlands by Witherford Watson Mann. Three national awards go to AHMM including for White Collar Factory. You will note these are all in London: a desktop analysis emphasises the skewed geography of award winning buildings.
Not surprisingly, given the pressures on and methods of procurement, public health buildings and schools do not make a good showing in England. So those that have got through the process should be applauded: Marlborough Primary School by Dixon Jones Ltd for The Royal Borough of Kensington & Chelsea and Maccreanor Lavington Architects' Kingsgate Primary Lower School for London Borough of Camden, both of which were part of a wider development on the site.
There are two winners in this category in the devolved nations, St David's Hospice's new in-patient unit, by KKE Architects with Welsh government funding as well as charitable donations and in Scotland Boroughmuir High School. Higher education has a brick-facade flourish with two universities, the University of Roehampton and – more predictably – the University of Cambridge, winning two awards each. A likely contender for the Stirling Prize, for which the RIBA National Awards act the very-long list, the nursery and community centre designed by Muma here is perhaps not the most typical output from an elite university but is an important part of its city extension in North West Cambridge.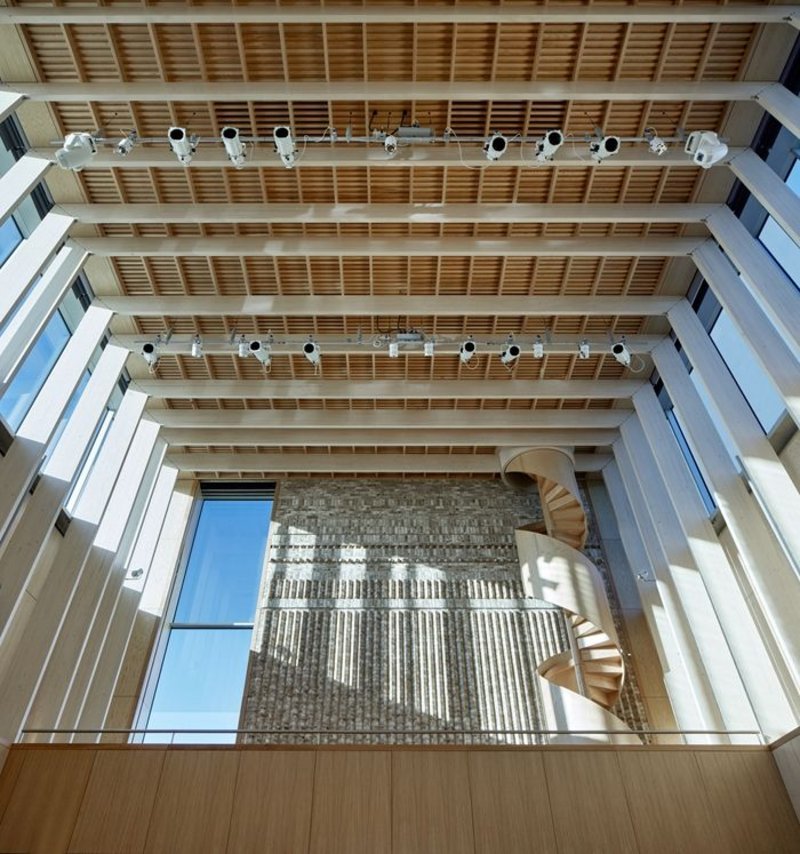 Cambridge: Storey's Field, the nursery and community centre designed by Muma for Cambridge University

Credit: Alan Williams
In the June issue of the RIBA Journal and online, we publish the full gamut of the RIBA's Regional Awards which tell us much about the state of UK architecture, with celebrations of good buildings across the country and 140 winners. But the RIBA National Awards tell of a harder story of the battle for quality and the inevitable correlation with cash and culture; there are no winners in the East Midlands or Northern Ireland this year and only one in Wales.
There might be something about land values – surely commercial buildings have made a strong showing this year? The answer to that is yes, developer Derwent has won two awards as client. But before we start applauding award-winning offices it should be noted that three projects actually house their own architects' offices – Knox Bhavan, Squire and Partners and Groupwork + Amin Taha Architects.
Over half of the buildings winning awards are in London. But this disguises the dominance of capital which you can read in the location of the practices: 42 of the 49 awards were won by lead practices based primarily in London. To put it into perspective 41% of ARB-registered architects are London based and London practices have won 86% of the awards.
The second most frequent practice location is Edinburgh with three practices, including twice Stirling-shortlisted Reiach and Hall, all of which have won for projects within Scotland. And there is one practice each from Worcester and Cambridge. Of the 'not-London' practices, Feilden Clegg Bradley Studios has done the best with two awards including for the Royal Birmingham Conservatoire – although its 85-person Bath base is matched by its London office (with Manchester and Belfast coming up behind).
This is an incredibly complex issue. Are the national awards capturing the best quality architecture or is there something missing here? Three apparently impressive regional buildings of the year didn't make it to the national level and who knows what wasn't even entered in the first place. Or is it about ambitious regional clients wanting 'London' architects – as many who open up a London base away from their regional home seem to find? Or is it about the sort of architects, qualified and in training who are attracted to the UK's big city and the culture that reinforces this? This all needs more analysis and over a longer period. And in the meantime we should celebrate the good architecture that does get built and has just been recognised for that – see the full list below.
15 Clerkenwell Close, Groupwork + Amin Taha Architects for 15CC Ltd
25 Savile Row, Piercy&Company for Derwent London
53 Great Suffolk Street, Hawkins\Brown for Morgan Capital Partners
Albert Works, Cartwright Pickard Architects for City Estates
Bethnal Green Memorial, Arboreal Architecture for Stairway to Heaven Memorial Trust
Bloomberg, London, Foster + Partners for Bloomberg
Boroughmuir High School, Allan Murray Architects for Children & Families Department, City of Edinburgh Council
Bushey Cemetery, Waugh Thistleton Architects for The United Synagogue
Caroline Place, Amin Taha + Groupwork
Chadwick Hall, Henley Halebrown for University of Roehampton
City of London Freemen's School, Swimming Pool, Hawkins\Brown for City of London Freemen's School
Coastal House, 6a architects ltd. for private client
Durham Cathedral Open Treasure, Purcell for Durham Cathedral
Five Acre Barn, Blee Halligan for private client
Gasholders Court, WilkinsonEyre and Jonathan Tuckey Design for King's Cross Central Limited Partnership
Kings Crescent Estate Phases 1 and 2, Karakusevic Carson Architects and Henley Halebrown for The London Borough of Hackney
Kingsgate Primary Lower School, Maccreanor Lavington Architects for London Borough of Camden
Knox Bhavan Studio, Knox Bhavan Architects for Simon Knox & Sasha Bhavan
Liverpool's Royal Court, Allford Hall Monaghan Morris for Royal Court Theatre Trust
Lochside House, HaysomWardMiller Architects for private client
Maggie's Oldham, dRMM Architects for Maggie's
Marlborough Primary School, Dixon Jones Ltd for The Royal Borough of Kensington & Chelsea
New Tate St Ives, Jamie Fobert Architects with Evans & Shalev, for Tate St Ives
Nucleus, The Nuclear Decommissioning Authority and Caithness Archive, Reiach and Hall Architects for The Nuclear Decommissioning Authority
Old Shed New House, Tonkin Liu for private client
R7, King's Cross, Duggan Morris Architects, Weedon Architects for Argent LLP
Riverlight, Rogers Stirk Harbour + Partners, EPR Architects for St James Group Limited
Royal Academy of Music - The Angela Burgess Recital Hall and The Susie Sainsbury Theatre, Ian Ritchie Architects Limited for The Royal Academy of Music
Royal Albert Wharf Phase 1, Maccreanor Lavington Ltd for Notting Hill Housing Group
Royal Birmingham Conservatoire, Feilden Clegg Bradley Studios LLP for Birmingham City University
Shaftesbury Theatre, Bennetts Associates for The Theatre of Comedy Company
Sibson Building, Penoyre & Prasad for University of Kent
St Augustine's Church, Roz Barr Architects for The Order of St Augustine
St David's Hospice, New In-Patient Unit, KKE Architects for St David's Hospice Care
Storey's Field Community Centre and Nursery, MUMA LLP for University of Cambridge
Storyhouse, Bennetts Associates and Ellis Williams for Cheshire West and Chester Council
The David Attenborough Building, Nicholas Hare Architects for University of Cambridge
The Department Store, Squire and Partners for Squire and Partners
The Leadenhall Building, Rogers Stirk Harbour + Partners for British Land
The Piece Hall and Calderdale Central Library and Archives, LDN Architects LLP for Calderdale Metropolitan Borough Council
The Sultan Nazrin Shah Centre, Niall McLaughlin Architects for Worcester College
University of Birmingham Indoor Sports Centre, Lifschutz Davidson Sandilands for University of Birmingham Indoor Sports Centre
University of Roehampton Library, Feilden Clegg Bradley Studios LLP for University of Roehampton
Victoria and Albert Museum Exhibition Road Quarter, AL_A for Victoria and Albert Museum
Victoria Hall King's Cross, Stanton Williams for Aga Khan Development Network
Walthamstow Wetlands, Witherford Watson Mann Architects for Waltham Forest Council
West Court Jesus College, Niall McLaughlin Architects for Jesus College
Weston Street, Allford Hall Monaghan Morris for Solidspace
White Collar Factory, Allford Hall Monaghan Morris for Derwent London