The variety of skills and expertise demonstrated by this year's cohort raises the question of what an architect is
This fascinating cohort of 2022 Rising Stars raises the question of what an architect is. The variety of skills and expertise and the energy applied to pursuing the passions and causes, often alongside remarkable project work, puts paid to any quick characterisation of the profession. The annual RIBAJ Rising Stars, in association with Origin Doors and Windows, also gives a chance to explore some new answers. The judges spotted an entrepreneurial spirit that will stand this cohort in good stead in the complex social and economic situation of today.
Local authority architecture has not, of late, been seen as the home for pushing the boundaries of architecture but Betty Owoo at Barking and Dagenham's regeneration company, Be First London, shows how working with planning, local history and local people can be brought together in an exciting mix. There are pairings of like-minded clients and architects, notably Charlie Palmer with community builders in Plymouth. There is John Naylor at Grimshaw who has dedicated himself to a building material, bamboo, that could bring huge socio-economic benefits to societies in the global south.
Naylor also exemplifies a shift we are seeing from early-career architects away from pushing to embed sustainability in general into their practice processes, and instead delivering it on the ground through retrofit and Passive House projects and with materials like bamboo. We are seeing sustainability missions maturing into technical expertise. Add to this the cohorts' contribution to promoting the inclusion of all voices and you have a compelling testament to this generation.
See 2022's Rising Stars: Georgia Collard-Watson, Jennifer Dyne, Josh Foster, Daniel Innes, Farhana Jiwa, Michelle Martin, Steve McCloy + Bongani Muchemwa, John Naylor, Betty Owoo, Charlie Palmer, Jo Sharples, Jordan Whitewood-Neal
Judges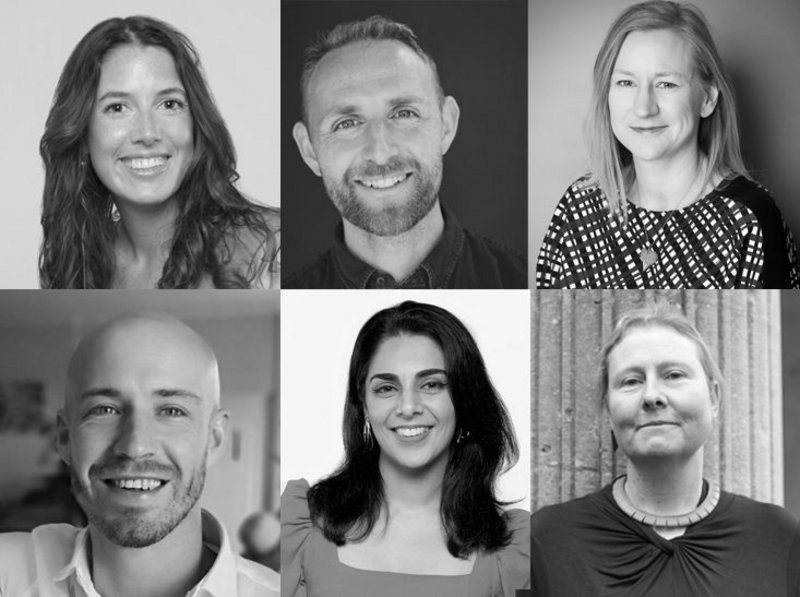 This years judging panel, from top left: Angela Crowther, Fergus Feilden, Selina Mason, Matt Rumble, Hiba Alobaydi, Eleanor Young
Hiba Alobaydi, assistant editor, Foster and Partners, Rising Star 2021
Angela Crowther, associate director, Arup
Fergus Feilden, co-founder, Feilden Fowles
Selina Mason, director of masterplanning, Lendlease
Matt Rumble, strategic head of regeneration & development, London Borough Hammersmith & Fulham Council
Eleanor Young, editor, RIBA Journal (chair)
Origin supporting RIBAJ Rising Stars
As a longstanding supporter of the RIBA, Origin is thrilled to be able to continue championing the Rising Stars competition. Encouraging and celebrating talent of all sorts, it recognises emerging players in the architectural ecosystem.
2022 marks Origin's 20th anniversary, and within this time, we have become one of the most successful British manufacturers in the world, excelling in both product design and manufacture, now offering a full-house solution for maximising glazing both internally and externally.
Given the fresh thinking that this year's entrants have shown, it fills us with optimism that the future of the architectural and building industry will be in very safe hands that will continue to innovate and push boundaries.
We've loved working with the team as they have all demonstrated a strong sense of collaboration, diversity, enthusiasm and passion, so it's been fantastic to witness and be a part of.
Ben Brocklesby, sales and marketing director, Origin