Cambridge carries off a clutch of awards as works by both established and up-and-coming practices head hopefully towards the Stirling Prize
Cambridge is the big winner in the RIBA National Awards. With eight National Awards for buildings in the city it has taken 15% of the total of 54 National Awards.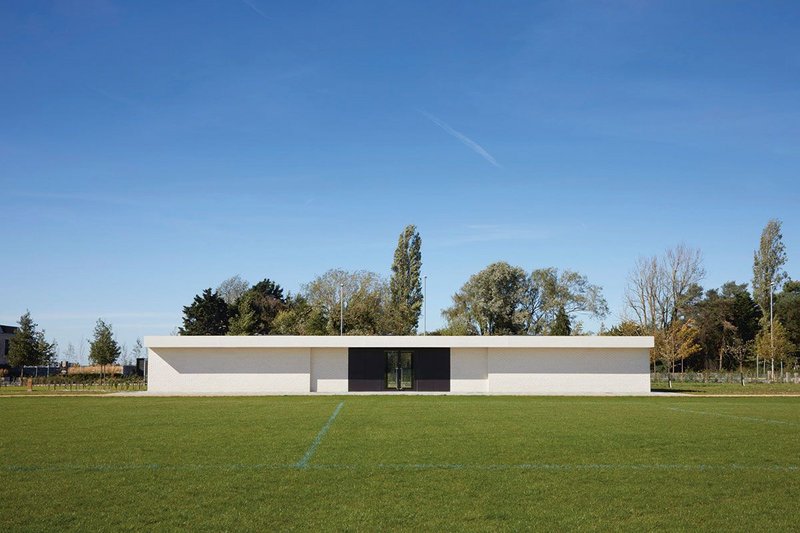 Sports pavilion by Robin Lee Architects at New Eddington, Cambridge.

Credit: Jack Hobhouse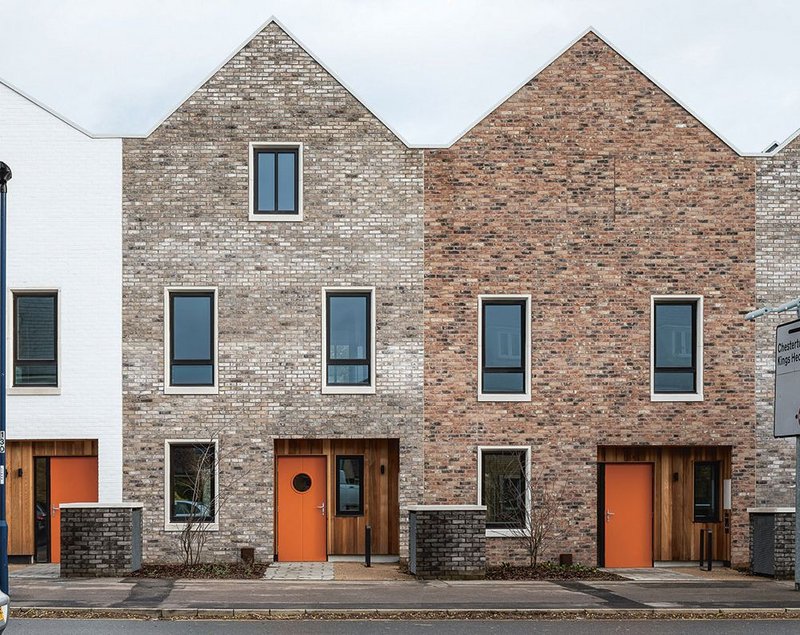 Mole Architects' Marmalade Lane co-housing project in Cambridge.

Credit: David Butler
New Eddington has been planned for 3,000 homes. And it is notable that one of the practices, Mole Architects, whose name is popping up all over the awards, worked with Wilkinson Eyre to design another of the university's winners on the site. Over the years Mole has worked closely with a selection of big name international architects designing Living Architecture's gallery of remarkable houses to let. This year Mole has a National Award for its work with Atelier Peter Zumthor, at the Secular Retreat in Devon, many miles away from its Cambridge heartland. But Mole's work also gives hope for a more accessible sort of architecture with its award winning co-housing of 42 homes in Marmalade Lane, developed in close collaboration with those who now live there. This includes shared facilities like workshop and gardens as well as play room, guest room and laundry.
Other, more established practices have also done well, most notably Haworth Tompkins with three awards, its confident and nuanced application of scrape and reveal on two theatres combined with a deep understanding of social and artistic spaces. The buildings that win National Awards have to set national standards for good architecture and demonstrate design excellence, be fit for purpose and be sustainable. This is a high bar and weeds out many submissions where the clients and architects struggled to carry their original ambitions through to realisation.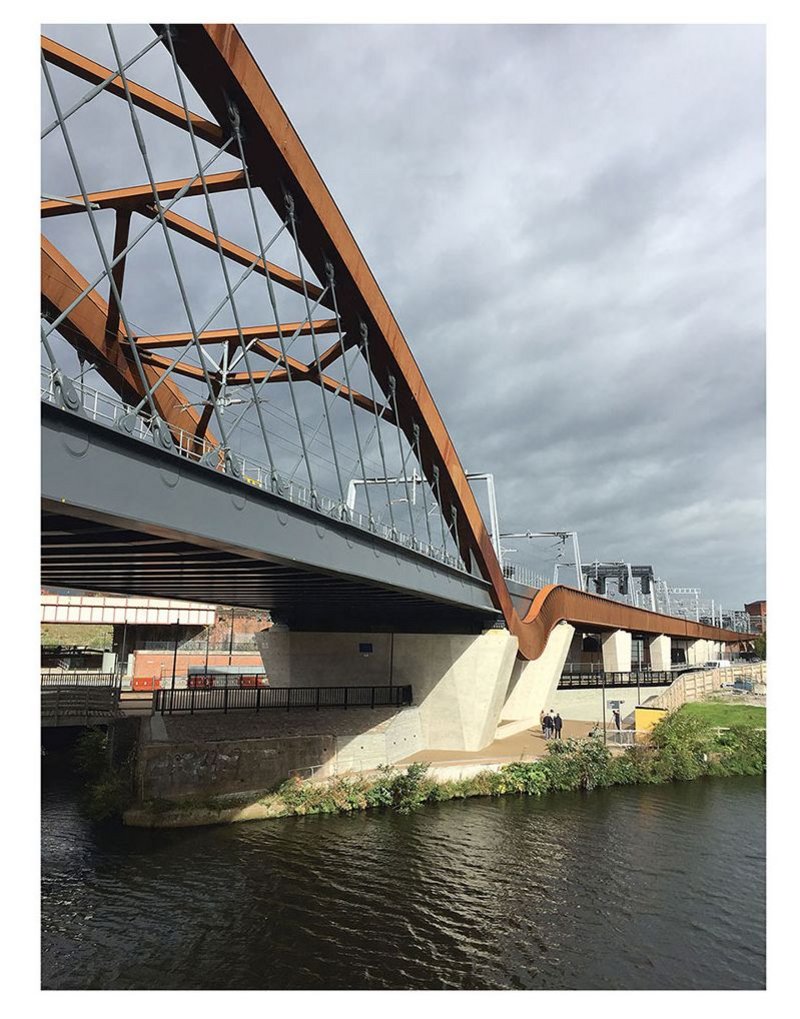 Ordsall Chord, a major piece of infrastructure for Manchester and the region, designed by BDP.

Credit: Nick Caville
Three regions have been left without any awards at this level. There were none for the North East, West Midlands or Wales. For some the disappointment of not getting a National Award will be offset by House of the Year shortlisting and the TV exposure that generates, as with BPN's Ghost House in Warwickshire. But in terms of typology it is infrastructure that is doing unusually well and it is good to see Ordsall Chord in Manchester and the capital's London Bridge Station putting in strong showings in this area. It will be interesting to see if Crossrail projects and ultimately HS2 developments will join them in the pantheon of awards.
At this point speculation on the RIBA Journal turns to Stirling Prize contenders. The consensus emerging is that the strongest projects are those where conservation is married with intelligent design, such as Nevill Holt Opera by Witherford Watson Mann and interventions in buildings both ancient and more modern. But it's all conjecture at this stage of course…
The winners in full
168 Upper Street (London, N1) by Groupwork
4 Pancras Square (London, W1) by Eric Parry Architects
A Restorative Rural Retreat for Sartfell (Isle of Man) by Foster Lomas
Alexandra Palace (London, N22) by Feilden Clegg Bradley Studios
Battersea Arts Centre (London, SW11) by Haworth Tompkins
Brentford Lock West Keelson Gardens (London, TW8) by Mæ with White Ink Architects
Bristol Old Vic by Haworth Tompkins
Coal Drops Yard (London, N1C) by Heatherwick Studio with BAM Design
Collective on Calton Hill (Edinburgh, Scotland) by Collective Architecture
Cork House (Berkshire) by Matthew Barnett Howland with Dido Milne and Oliver Wilton
Colin Connect Transport Hub and Colin Town Square (Belfast, Northern Ireland) by Hall McKnight
Eddington Masterplan, Cambridge by AECOM
Eddington, Lot 1, North West Cambridge by WilkinsonEyre with Mole Architects
Eleanor Palmer Science Lab (London, NW5) by AY Architects
Goldsmith Street (Norwich) by Mikhail Riches
Great Arthur House (London, EC1Y) by John Robertson Architects
Hackney Wick Station (London) by Landolt and Brown
Hampshire House by Niall McLaughlin Architects
Hill House Passivhaus (East Sussex) by Meloy Architects
House Lessans (Saintfield, Northern Ireland) by McGonigle McGrath
Kettle's Yard (Cambridge) by Jamie Fobert Architects
Kingswood Preparatory School and Nursery (Bath) by Stonewood Design
LAMDA (London, W14) by Niall McLaughlin Architects
London Bridge Station by Grimshaw
Mackintosh at the Willow (Glasgow, Scotland) by Simpson & Brown
Mapleton Crescent (London, SW18) by Metropolitan Workshop
Marmalade Lane Cohousing (Cambridge) by Mole Architects
Merano (London, SE1) by Rogers Stirk Harbour + Partners with EPR
Music School, King's College School Wimbledon (London, SW19) by Hopkins Architects
Nevill Holt Opera (Leicestershire) by Witherford Watson Mann Architects
Nithurst Farm (West Sussex) by Adam Richards Architects
North West Cambridge Utility Buildings by Robin Lee Architecture
Ordsall Chord (Manchester) by BDP
Peter Hall Performing Arts Centre (Cambridge) by Haworth Tompkins
Pitzhanger Manor and Gallery (London, W5) by Jestico + Whiles with Julian Harrap Architects
Preston Bus Station Refurbishment by John Puttick Associates with Cassidy+Ashton
Royal Opera House Open Up (London, WC2E) by Stanton Williams
Secular Retreat (Devon) by Mole Architects with Atelier Peter Zumthor
Sevenoaks School Science and Technology Centre and Global Study Centre by Tim Ronalds Architects
Signal Townhouses (London, SE1) by Allford Hall Monaghan Morris
Simon Sainsbury Centre, Cambridge Judge Business School (Cambridge) by Stanton Williams
South London Gallery Fire Station (London, SE15) by 6a Architects
Southbank Centre (London, SE1) by Feilden Clegg Bradley Studios with Archer Humphryes Architects
Teaching and Learning Building, University of Nottingham by Make Architects
Television Centre (London, W12) by Allford Hall Monaghan Morris with MacCreanor Lavington, Morris+Company, dRMM, Mikhail Riches, Piercy+Co, Haptic, Archer Humphreys and Coffey Architects
The Beecroft Building, University of Oxford by Hawkins\Brown
The Dorothy Garrod Building, Newnham College (Cambridge) by Walters & Cohen Architects
The Macallan Distillery (Aberlour, Scotland) by Rogers Stirk Harbour + Partners
The Painted Hall (London, SE10) by Hugh Broughton Architects with Martin Ashley Architects
The Queens Diamond Jubilee Galleries (London, SW1) by MUMA LLP
The Weston, Yorkshire Sculpture Park by Feilden Fowles Architects
V&A Dundee by Kengo Kuma & Associates with PiM.studio Architects and James F Stephen Architects
Westminster Abbey Triforium Project (London, SW1) by Ptolemy Dean Architects
Writ in Water (Runnymede, Surrey) by Studio Octopi