The National Awards are announced: see which of the Regional Award winners made it through to the next round to have a pop at the Stirling Prize
The Welding Institute by Eric Parry Architects.

Credit: Dirk Lindner
I can't help scanning the list of RIBA National Awards to see how many winners we spotted in the RIBAJ over the course of the last couple of years (bearing in mind that none of us on the magazine is involved in the awards process). And, of course, how many we missed, given that we can't cover or even know about everything – we're only human, give us a break. Luckily we're not doing too badly it seems, which means that you can revisit our full and briefer write-ups of a number of the winners, done before they were famous, by following the links in this report.
Attentive readers will therefore be thoroughly familiar with the circular library (and much more) of FaulknerBrowns 'The Word' in South Shields. As you will be of the calm rigour of the Vajrasana Buddhist Retreat Centre in Suffolk by Walters & Cohen, the ingenious adaptation and extension of New Scotland Yard by AHMM, the thatch-flanked Enterprise Centre at the University of East Anglia by Architype, the ceramic baguettes of Eric Parry's Welding Institute in Cambridgeshire, the return-to-the-terrace Dujardin Mews social housing in north London by Karakusevic Carson Architects with Maccreanor Lavington, or the charming modern-vernacular Carrowbreck Meadow housing in Norfolk by Hamson Barron Smith, which came to our notice through our MacEwen Award shortlist – as did dRMM's Hastings Pier .
The MacEwen with its social-responsibility remit also brought to your kind attention the rough-hewn timber of Invisible Studio's Wolfson Tree Management Centre at Westonbirt Arboretum. So you'll doubtless know that just as well as you know the rough-textured brick of Herzog de Meuron's Switch House extension to Tate Modern, officially known as the Blavatnik Building which is confusing as the same architects did another utterly different Blavatnik Building for Oxford University, a school of government no less, which won a national award last year. In the academic world we also wrote about Grimshaw's Laboratory at Dulwich College.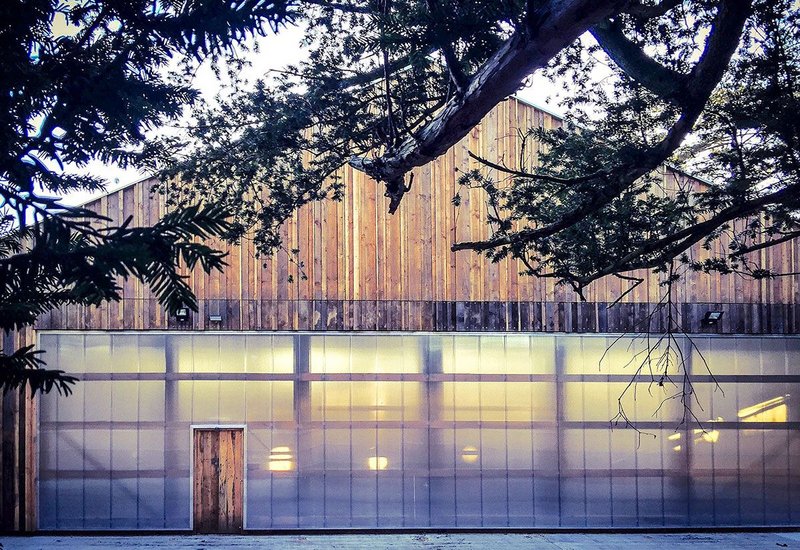 Westonbirt Tree Management Centre by Invisible Studio.

Credit: Piers Taylor
There's more. You may well have marvelled at Peter Salter's virtuoso dark-materials display in our account of his Walmer Yard houses in north London. Or perhaps your taste is for the more modest Cotswold village charms of Warwick Hall Community Centre in Burford by Acanthus Clews Architects. Now then: Caruso St. John's Liverpool Philharmonic rejuvenation? Ah yes, we were there. And I see we snuck in Foster's Maggies Centre in Manchester, which also won a Wood Award as it's got clever wood as well as clever glass in it. It won that overall prize.
Surely that's it for our seemingly exhaustive unconscious pre-coverage of the National Awards? Not by a long chalk. How could I forget Marks Barfield's i360 observation tower in Brighton which we've covered in various ways about three times? Here's one of them, here's another and here is one more. Clearly we're obsessed.
We were certainly impressed by Glenn Howells Architects' Remembrance Centre at the National Memorial Arboretum at Alrewas in Staffordshire . We didn't QUITE review Wright & Wright's masterly Magdalen Library in Oxford but that was only because it formed part of our overall profile of this unusual and interesting practice. But we certainly DID review the latest phases of the Dyson campus in Malmesbury by Wilkinson Eyre. Not to mention, although we are, ACME's Victoria Gates shopping arcade in Leeds. And – hang on, what's this? Can it be? Yes, it's Rogers Stirk Harbour cantering up with its British Museum World Conservation and Exhibitions Centre which we reviewed back in July 2014 though it was not finally completed until later. The rather glamorous Photography Studio for Juergen Teller featured in PIP.
If you tot up that lot above, then I'm pleased to say that we pre-loved 22 of this year's 49 RIBA National Award winners in the RIBAJ. And we never placed a bet on any of them. But that means that there are another 27 that the awards juries got to first. This, of course, is why we devoted our June issue to the regional awards, where you'll find them interleaved with all the other good stuff from around the UK.
You can find the other 27 listed and linked at the end.
What do these awards tell us about the state of British architecture? Encouragingly it's more pluralistic than ever in both style and material choice, though in my view it's a shame that traditionalist architects, as distinct from conservation architects, aren't represented at all on this list. President Jane Duncan notes that while there's some great new housing on the list, and additions to private schools, there are no new state schools this time round.
So – since we're seemingly such great tipsters, would we care to offer odds on this year's Stirling Prize winner that will be found from among the 49? No we would not. We ALWAYS get that wrong.
---
Winners all: the magnificent other 27
Peacock House, BHSF Architekten with Studio-P, Aldeburgh, Suffolk, England
Individual house
St Albans Abbey, Richard Griffiths Architects, St Albans, Hertfordshire, England
Place of worship
Leicester Cathedral's Richard III Project 'With Dignity and Honour', van Heyningen and Haward Architects, Leicester, England
Place of worship
No 49, 31/44 Architects, Hither Green, southeast London, England
Individual House
The Loom, Duggan Morris Architects, Whitechapel, east London, England
Workspace/office
8 Finsbury Circus, WilkinsonEyre, City of London
Workspace/office
40 Chancery Lane, Bennetts Associates, Holborn, central London, England
Mixed use building – Workspace/office and retail
King's College School, Allies and Morrison, Wimbledon, southwest London, England
School - independent/public
Paradise Gardens, Lifschutz Davidson Sandilands, Hammersmith, west London, England
Housing development – private
Silchester, Haworth Tompkins, Notting Hill, west London, England
Housing development – social
Barretts Grove, Amin Taha + Groupwork, Stoke Newington, north London, England
Housing development – private
Live Works, Flanagan Lawrence with Tench Maddison Ash Architects, Newcastle Upon Tyne, England
Theatre
Shawm House, MawsonKerr Architects, West Woodburn, Northumberland, England
Individual house
Chetham's School of Music - Stoller Hall, stephenson STUDIO, Manchester, England
School - independent/public
Finlays Warehouse, Stephenson Studio, Northern Quarter, Manchester, England
Housing development – private
Fallahogey Studio, McGarry-Moon Architects Ltd, Kilrea, Northern Ireland
Workspace/office
Bedales School of Art and Design Building, Feilden Clegg Bradley Studios, Petersfield, Hampshire, England
School – independent/public
The Berrow Foundation Building and New Garden Building, Lincoln College, Stanton Williams, University of Oxford, Oxford, England
University
Magdalen College Library, Wright & Wright Architects, University of Oxford, Oxford, England
University
Caring Wood, James MacDonald Wright and Niall Maxwell, near Maidstone, Kent, England
Individual house
Command of the Oceans, Baynes and Mitchell Architects, Chatham Historic Dockyard, Kent, England
Museum
South Street, Sandy Rendel Architects Ltd., Lewes, East Sussex, England
Individual house
New Music Facilities for Wells Cathedral School, Eric Parry Architects, Wells, Somerset, England
School – independent/public
Blackburn Meadows Biomass, BDP, Sheffield, South Yorkshire, England
Energy infrastructure
Derwenthorpe Phase One, Studio Partington, York, north Yorkshire, England
Housing development – private
City of Glasgow College, Reiach and Hall Architects and Michael Laird Architects, Cathedral Street, Glasgow, Scotland
Further education college
Newhouse of Auchengee, Ann Nisbet Studio, Meikle Auchengree, North Ayrshire, Scotland
Individual house
Rockvilla, Hoskins Architects, Speirs Wharf, Glasgow, Scotland
Workspace/office